MediaTek's next flagship SoC, the Helio X30, will be manufactured using a 10nm manufacturing process and boast ten physical cores, as suggested by leaks. Analyst Pan Jiutang, who made this claim, also stated that the upcoming chipset will be using ARM's new generation Artemis cores. The Helio X30 will be configured in three core clusters, an Artemis cluster, an A53 cluster and an A35 cluster. This chipset is expected to handle 8GB of RAM, and can also be paired with a PowerVR GPU. In an image shared by Pan Jiutang on Weibo, the SoC allegedly scores 1,60,000 on AnTuTu. The chipset is expected to hit the markets in 2017.
Artemis, ARM's new core architecture that is expected to be present in the Helio X30, is expected to be a direct competitor to Qualcomm's Kryo cores. These powerful cores may replace the current generation A72 cores, that are being used in various SoCs. On the other hand, the A35 core has been stated to provide up to 40% better performance and lower power consumption. This should increase the overall performance, while decreasing power consumption in comparison to existing MediaTek chipsets. A previous rumour had suggested that the Helio X30 will support 26MP cameras, offer dual-rear camera support, and the latest CAT 13 LTE modems.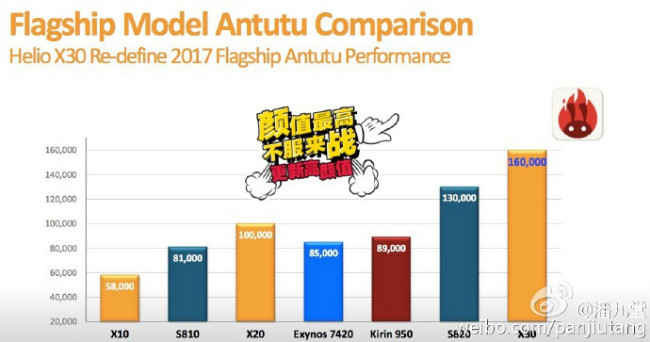 The leak however, does not state whether the Helio X30 will be made using Samsung's 10nm FinFet process. The new SoC should line up against the Qualcomm Snapdragon 830 SoC, details of which are sparse. A previous rumour had suggested that the Snapdragon 830 will also be able to handle 8GB of RAM, and may be tagged under model number 'MSM 8998'. Also, a Microsoft listing hints that the Windows 10 Mobile platform could be compatible with the Snapdragon 830, although we do not expect the new chipset before 2017.