LG has announced the launch of its high end smartphone, the Optimus Vu, in India for Rs 34,500. The 5 inch screen based Android smartphone will face tough competition from the likes of HTC One X and Samsung Galxy Note II.
LG is set to square off with the likes of Samsung and HTC in the Indian market as it launches its Galaxy Note II and One X-rival 'Optimus Vu' in the country for Rs. 34,500. The Optimus Vu phablet boasts of a 5-inch display and offers aspect ration 4:3.
The Optimus Vu was first unveiled at the Mobile World Congress event earlier this year. The device recently went on sale in select markets of Asia and Europe. The LG Optimus Vu's 5-inch display sports a resolution of 1024x786,. It features Android 4.0 Ice Cream Sandwich operating system, 1.5GHz Nvidia Tegra 3 quad-core processor, and 1GB of RAM.
The device measures 139.6 X 90.4 X 8.5 mm and weighs 168gm. Other specifications include 32GB built-in storage, an 8MP camera and a 1.3 MP front facing camera. For connectivity, the device supports 3G, Wi-Fi 802.11 b/g/n, NFC, 3.5mm audio jack, Bluetooth v4.0, A-GPS and USB.
The Optimus Vu comes with a 2,080 mAh battery, which is rated to deliver talktime up to 14.99 hrs in 3G mode.
The device also ships with the latest version of note-taking feature QuickMemo and Notebook, which the company introduced for its Optimusic L Series of phones recently. Read full specifications of the Optimus Vu here. Also check out our Hands on: LG Optimus Vu and LG Optimus Vu versus Samsung Galaxy Note.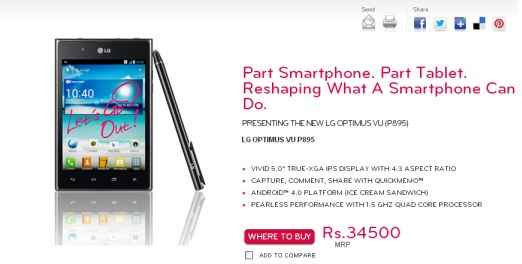 LG Optimus Vu listed on the LG India website
The LG Optimus Vu is the latest addition to the thriving 5-inch phablet market in India. From top brands, we have the Samsung Galaxy Note II, Galaxy Note and HTC's One X smartphones in the category. While the Galaxy Note II is priced at Rs. 37,900, the original Note comes for Rs. 29,990. HTC's One X comes for Rs. 34,999. At Rs. 34,500, the Optimus Vu is likely to give a tough competition to these devices.
What do you think of the new LG Optimus Vu? Let us know in the comments section below: