Fresh details regarding a LG device with a massive 5.5-inch screen have leaked to the Internet.
Specifications and an image of the international version of the LG Optimus G Pro have surfaced on the Internet. Consider the successor to the Optimus G, the Optimus G Pro a.k.a Optimus G Pro features a massive 5.5-inch HD display and is expected to be launched at the Mobile World Congress 2013 event.
The LG Optimus G Pro recently became official on Japanese carrier NTT Docomo and is tipped to be released in South Korea by April this year. New details about the Optimus G Pro come via PhoneArena, which has posted an image and specs for the 5.5-inch LG device. The device is likely to come with 5.5-inch full HD IPS-LCD display and feature 1.7GHz quad-core Snapdragon processor, 2GB of RAM, 13MP and 2MP rear and front cameras, NFC, LTE, 32GB built-in storage and microSD slot that supports storage up to 64GB.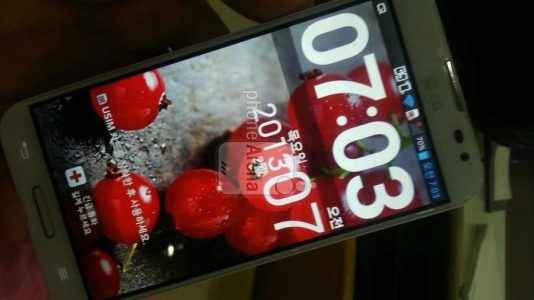 The purported image of the Optimus G Pro shows the device has a special port with HDMI and RGB outputs. The rumoured device is powered by a 3140 mAh battery, an upgrade from what its predecessor comes with. Also, the device runs Android v4.1 Jelly Bean along with LG's customised UI.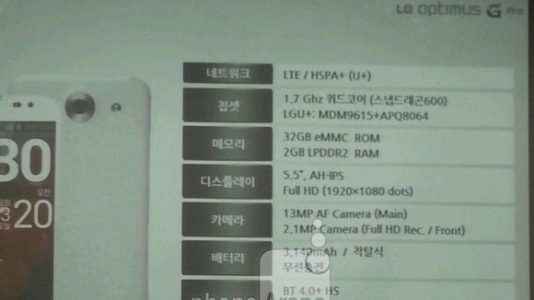 It's not the first time we've heard of LG readying a 5.5-inch device. Back in December 2012, rumours said the next generation LG phone features a quad-core 2.0 or 2.5GHz Krait processor, an Adreno 320 GPU and 2GB of RAM. The smartphone is also expected to run on Google's next gen OS, Android 5.0 Key Lime Pie. Read LG may unveil Optimus G2 at CES 2013 and LG Optimus G2 rumoured to feature a 5.5-inch 1080p display