Working from home?
Don't forget about the most important equipment in your arsenal
Click here to know more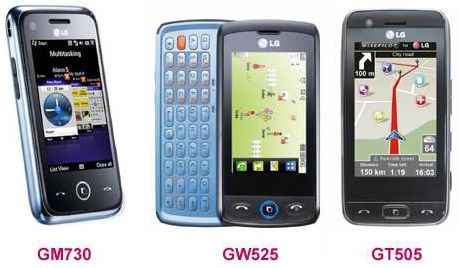 LG Electronics India has introduced three new handsets that like to claim the titles of 'mini computers' – the GW525, GT505 and GM730.
The phones boast of powerful processors, abundant memory, easy operating systems and social networking services. Designed with usability in mind, LG's offerings highlight the touch-friendly, easy-to-navigate interface that delivers an easier and faster experience for users.
"The new range offers seamless and unrivalled mobile experience making them extremely convenient devices," said Mr. Anil Arora, Business Group Marketing Head, LG.
LG GW525
The LG GW525 is designed with messaging on-the-move in mind, be that via social networks, email or SMS and IM. Easy to use, accessible messaging features, combined with a 2.8-inch touchscreen and side-slide QWERTY keypad make this the ultimate device to stay in touch with friends and family.
The new LiveSquare feature shows your favourite friends as animated characters on your screen. If one of those contacts sends you a text, their character will tell you that there is a message waiting.
The GW525 retails in India at
Rs. 13,990
. More details about the device can be found at LG's
official page
.
LG GT505
Like the GW525, the LG GT505 also offers push social networking services, consumer push email and business push email via Microsoft Exchange Active Sync. In addition, the GT505's 3-inch touchscreen and GPS functions make it an ideal navigation device.
It comes preloaded with a 30-day free trial of 'Wisepilot for LG' – a turn-by-turn navigation solution with voice instruction and a choice of 2D or 3D mapping to guide you.
The handset packs in a bit of fun too, with a 5-megapixel camera that lets you take great snaps and then share them with your friends via social networks
The GT505 retails in India at
Rs. 14,990
. More details about the device can be found at LG's
official page
.
LG GM730
Built around a 3D cube layout, the S-class UI of LG GM730 and Windows Mobile combination makes the device quite easy to operate. By connecting the phone's email, schedule and contact lists, users can send and receive messages using less key presses than on regular smartphones.
Advanced multimedia features such as a 5-megapixel camera, MP3 player and numerous action-packed games make this phone a full-featured entertainment device.
The 11.9mm-thick GM730 retails in India at
Rs. 22,490
. More details about the device can be found at LG's
official page
.