LG has finally announced the list of devices that will be receiving the Android 4.0 Ice Cream Sandwich update. Dispelling rumours that the 2011 LG smartphones will not get the upgrade, the company has announced an ICS update for the LG Optimus 2X, Optimus Black, Optimus 3D, LG Prada and Optimus LTE.
LG's Singapore arm announced on Facebook: "We heard you these recent weeks and would like to share with everyone that our Ice Cream Sandwich (ICS) upgrade schedule is set and final details will be announced when they are ready. We are now working to fine-tune the upgrade for a better experience for all our customers."
LG has not yet revealed the data of availability of the update. It's notable the confirmation has come from Singapore, but is likely that the update will be rolled out globally.
It's also notable LG had been saying for some time that the Optimus 2X will be updated with the ICS. However, LG's Canada arm recently sparked all sorts of speculations when it disclosed that the "Optimus 2X will not be getting the ICS update. The original upgrade announcement was a general statement issued from HQ." Check out the LG Canada tweet below: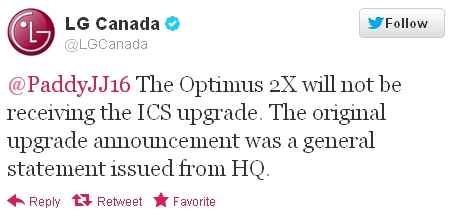 Sony recently announced Android 4.0.4 update for its 2011 Xperia smartphones. The company announced firmware update will be available for some Gingerbread-based Xperia smartphones as well. The update will begin with smartphones namely the Xperia Arc, Xperia Arc S, Xperia Neo, Xperia Neo V, Xperia Mini, Xperia Pro, Xperia Active and Xperia Ray. For more, read our previous coverage.
Also read,