Lenovo will be bringing its IFA introduction, K6 Power to India on November 29. The smartphone is one of the latest devices that focuses on offering large battery in a compact form factor. The price of Lenovo K6 Power is not yet known but the device should be priced in the same category as that of Xiaomi's Redmi 3S and Moto E3 Power.
Xiaomi Redmi 3S and Moto E3 Power are exclusively available on Flipkart. Lenovo has also confirmed that K6 Power will only be available on Flipkart. The online retail giant also announced that Redmi 3S has surpassed 1 million units in sales. Lenovo could well bring a fresh battle to the category and might restrict sales of Redmi 3S. So here is how the Lenovo K6 Power compares with Xiaomi's Redmi 3S and Moto E3 Power.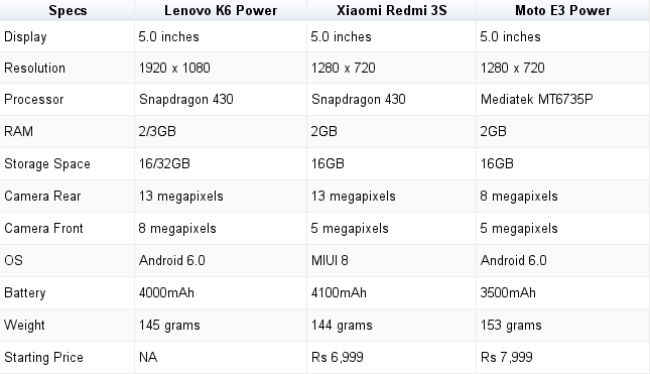 Design and Display: Lenovo K6 Power like Redmi 3S features a unibody metal design with straight edges and round corners. Moto E3 Power is an exception here with its plastic design. Lenovo K6 Power is 9.3mm thick while Redmi 3S hits the thickness scale at 8.5mm and Moto E3 Power is the thickest of the lot at 9.6mm. All the devices weigh around 150 grams, which is fine in this segment.
Lenovo K6 Power's biggest advantage is the use of full HD panel. Xiaomi Redmi 3S, Redmi 3S Prime and the Moto E3 Power offer only 720p HD display. Better resolution doesn't necessarily mean better display so we will have to wait to know how good Lenovo K6 Power's display is in real life.
Performance and Battery Life: This is one area where Lenovo K6 Power and Xiaomi Redmi 3S beat Moto E3 Power hands down. The smartphones are powered by Qualcomm's Snapdragon 430 processor while Moto E3 Power comes with a MediaTek chipset. Qualcomm Snapdragon 430 features is an octa-core chipset with eight ARM Cortex A53 cores while MediaTek MT6735P is a quad-core CPU with four A53 cores.
Lenovo K6 Power was announced at IFA 2016 in two variants - 2GB RAM, 16GB storage and 3GB RAM, 32GB storage. Xiaomi Redmi 3S comes with 2GB RAM and 16GB storage while the Prime variants jumps to 3GB RAM and 32GB storage. Moto E3 Power comes only in one variant with just 2GB RAM and 16GB storage.
The USP of these devices are not performance but the endurance of their big batteries. Lenovo K6 Power gets a 4000mAh battery while Redmi 3S houses a 4100mAh one. Moto E3 Power comes with 3500mAh battery. In our reviews, we noted how Redmi 3S and Moto E3 Power perform exceptionally well in terms of battery life and same can be expected here from Lenovo K6 Power.
Camera: Lenovo K6 Power features a 13MP rear camera with phase detection autofocus. The camera is on par with Xiaomi's Redmi 3S in terms of hardware but we will wait to see first images to really conclude about the quality.
Both Redmi 3S and Redmi Note 3, Xiaomi's best selling devices in India fail to offer exceptional cameras. They perform well in decent lighting but struggle as soon as the conditions get difficult. If Lenovo manages to offer a better camera then it will probably get lead over Xiaomi's reliable Redmi 3S smartphone.
Price: Xiaomi Redmi 3S starts at Rs 6,999 while Moto E3 Power is priced at Rs 7,999. If Lenovo K6 Power arrives in India at similar price range then it already has a shot at stealing thunder from Xiaomi.