Photos of what are claimed to be speaker components for upcoming iPhones have leaked on the Web. No Where Else, a French website, posted the images stating that they belonged to the iPhone 5S and the iPhone 6. The site claims that the iPhone 5S will feature new hardware while using the same chassis as that of the iPhone 5, while the iPhone 6 will be a completely redesigned handset. The site further says that the iPhone 5S will be launched this summer while the iPhone 6 will be revealed next year.
However, the 9 to 5 Mac blog says that instead of a revamped iPhone 6, Apple will most probably launch the 5S and a cheaper iPhone. The blog also points out that developers have found clues pointing to a 128GB iOS device in the code of the iOS 6.1 beta that was recently released by Apple.
A number of rumours regarding new iPhones have surfaced recently. Some rumours point towards a high-end iPhone continuing with the same 4-inch display as the iPhone 5 along with a cheaper iPhone with the same dimensions. Other rumours talk about Apple developing a 5-inch iPhone along with a cheaper iPhone with a 4.8-in screen.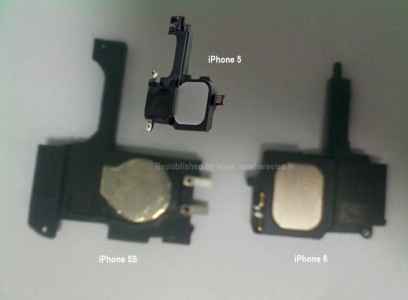 Looking at all these rumours, it seems highly likely that Apple will show at least one variant of the iPhone at WWDC 2013, that will be held in the summer.
Sources: No Where Else, 9 to 5 Mac
Also read,
Roundup: Critics (and Woz) react to first 'jOBS' screening
Report: iPad 5 to sport thinner design, debut in October
Apple reports record profits; CEO says iPhone 5's screen size is perfect