The images show Samsung's standard Device Maintenance feature is installed along with Android Go apps like YouTube Go and Maps Go.
Samsung has been very aggressive with a smartphone in almost every price segment. Until now it lacked a phone with Android Go OS to woo customers who prefer to buy affordable phones with Android capabilities, but this may soon change. A leak has shown a Samsung smartphone with Android Go apps installed on it, albeit with Samsung's Experience UX. According to a SamMobile report, the device in the leaked pictures is likely to be named Galaxy J2 Core.
The pictures show that Samsung has chosen its standard Device Maintenance feature over Android Go's data saving and storage management functions. There are on-screen navigation keys and the phone has the December 5, 2017 security patch. It is expected that the smartphone will be shipped with the latest security patch.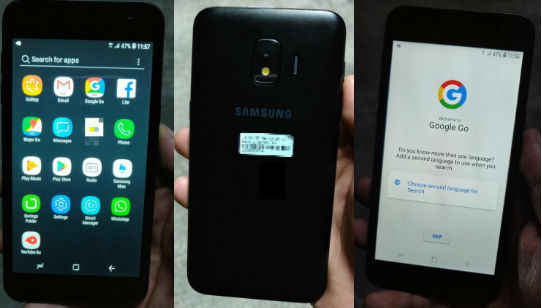 Earlier this year, Samsung was reported to be testing a new handset that runs on Android Go and it was earlier expected to be launched in India and some other markets like Nepal, Sri Lanka and Bangladesh. However, the company could also launch the device in some other markets like Europe, Latin America and Asia, where it was said to be currently under testing.
Two different variants with SM-J260G and SM-J260F model numbers were spotted earlier. The SM-J260G is expected to be unveiled in India as well as in Cambodia, Thailand, Singapore, Malaysia and Vietnam. The other variant could be introduced in United Kingdom, Italy, Ukraine, Russia, Kazakhstan, France, Uzbekistan, Caucasus Countries, Germany, and Poland, while the SM-J260M could be dedicated to Argentina, Bolivia, Colombia, Chile, Peru, Panama, Trinidad and Tobago, and Paraguay.
The smartphone was recently spotted on Geekbench with an unnamed quad-core processor with 1GB RAM and Android 8.1 Oreo onboard. It's speculated that Samsung is testing the waters for a stock Android-powered smartphone in other parts of the world, even though low-cost devices are launched mostly in India and a handful of other regions.