Working from home?
Don't forget about the most important equipment in your arsenal
Click here to know more
Finland's mobile startup Jolla has finally unveiled the long awaited smartphone, the first of its kind to run on the Sailfish OS.
An announcement was made on Monday by the Finnish makers that the smartphone will be available for pre-oder.
The phone still unnamed, will be available to pre-order for around €399 (roughly $513). However, Jolla co-founder Marc Dillion has revealed that the company will be offering freebies to customers who are willing to pay a little extra.
Freebies include a Jolla T-shirt which says "I am the first one" for which customers will have to pay an extra $51, for an additional $129, customers will get a $129 phone discount voucher and a limited-edition smartphone (incuding the Tee).
"To make this really great, we need your help," said Dillon, who urged developers to create Sailfish apps.
The company has been working on the smartphone since late 2011 and the OS based on the now defunct MeeGo OS. The OS is a merger of Intel and Nokia's Moblin and Maemo platforms. MeeGo was thrust forward by Intel after Nokia backed out to form a relationship with Microsoft and its Windows Phone OS. The shipping of N9 devices began late in 2011 by Intel, but soon it was given up.
The operating systems have cropped up to compete with the dominance of Apple's iOS and Google's Android operating systems that have become pervasive throughout the mobile market. While the trio of fledgling operating systems might not be able to eat away the entire share of the big two (or even BlackBerry OS and Windows Phone OS), but it would be interesting to see how they compete amongst themselves for the lower-end and mid-range devices.The mobile OS market is going to get a big boost soon, with three new rogue operating systems announcing their foray into this segment. We've got Firefox OS, Ubuntu Mobile OS (a.k.a. Ubuntu Touch) and Tizen OS.
Jolla has revealed some of the smartphone's specs. The phone will be powered by a dual-core processor. It has 16GB of onboard storage with an extra SD card slot. It will include an 8 megapixel camera and 4.5-inch Estrade display. Jolla, started by ex- Nokia employees, is 4G compatible which will depend on carrier support.
"I don't think that a year ago when we started any of us knew what was ahead. Wow, what an amazing journey it has been," Dillon said in a blog post. "We have the best team EVER working on Sailfish, we have the first fantastic devices and we have all that is needed to deliver and support them."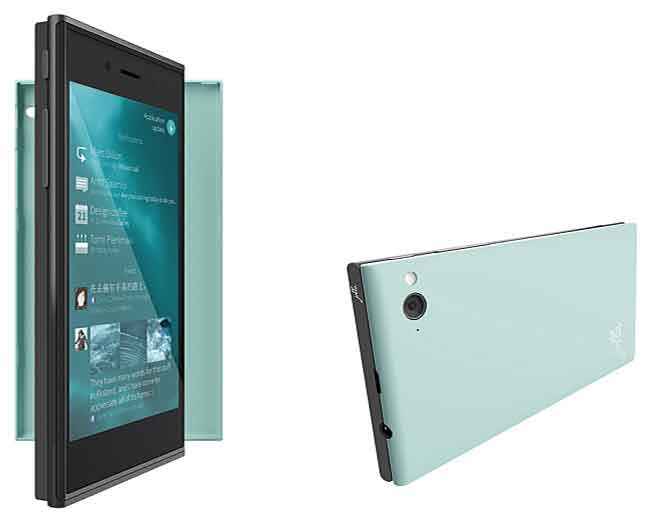 They also revealed that the device will come with a backplate that would allow customisation of the phone's user interface. "Attach the Other Half and your Jolla becomes alive and unique," the website said. "It becomes your other half, exactly as you want it to be."
Apart from expressing individual personality via colour schemes, the feature allows the phone's software to match the chosen colour and design. "Colors, fonts, tones, profiles, functions — all will adapt just as you wish by simply uniting the halves," the site said. There is no information about this particular function works, but Techcrunch believes it's done via NFC.
The OS is similar to the Windows Phone Live Tiles offering. Jolla signed it's first sales deal in the month of July with D.Phone, supposedly China's largest smartphone retail chain.
The phone is expected to reach a select few European countries once it starts rolling out, The Verge said; no announcement has been made regarding the official release date, however Jolla said "we target to ship by end of 2013."
Source: ZDNet
Source:PCMag