Google has released its latest Android distribution stats on its Android developer site, revealing the latest version Jelly Bean (v4.1 and v4.2) is now running on 13.6 percent of all Android devices while Ice Cream Sandwich is on 29 percent. v2.3 Gingerbread is still the largest Android OS with 45.6 percent of share, but down from last month's share of 47.6 percent.
Among other older Android versions, Froyo is on 8.1 percent of all Android devices, Honeycomb is on 1.3 percent and Eclair on 2.2 percent. Here's how the latest Android landscape looks like: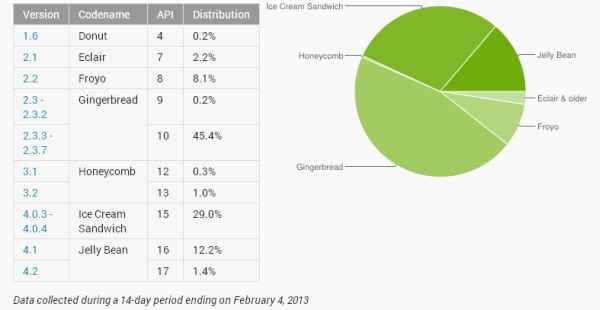 Last month's Android distribution stats showed Android Jelly Bean had for the first time crossed 10 percent share, and Gingerbread slumped below 50 percent. You can check out our coverage on the previous Android distribution here.
So far, several manufacturers including have introduced Jelly Bean-based devices while many devices are in the process of receiving the JB upgrade. The latest Android version is likely to grow more in next few months with more new devices. However, the Jelly Bean adoption could be slowed down if the rumoured Android 5.0 or Android 4.3 Key Lime Pie is released this year. There's also a possibility the two versions together top the Android distribution charts sooner or later.
Source: Android Developer