Google has updated its Android distribution figures on its Android developer site, revealing its latest Jelly Bean version has gone past the predecessor Ice Cream Sandwich. Android v4.1 and v4.2 are now running on 28.4 per cent of global Android devices, while Ice Cream Sandwich (4.0.3 and 4.0.4) is on 27.5 per cent.
v2.3 Gingerbread, however, continues to be the top Android variant, as it accounts 38.5 percent of devices worldwide. The dominance of Gingerbread suggests the budget and older smartphones are still up and running.
About 0.1 per cent of Android users are still running Donut, Android 1.6. The same amount are sticking with the tablet-centric Honeycomb for now, too.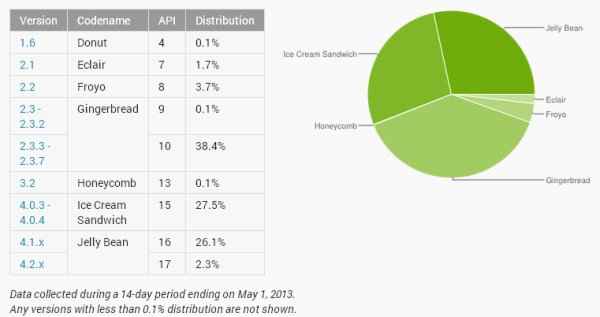 Jelly Bean has seen a consistent growth since its debut. Google's revamped Android distribution stats said last month Jelly Bean was on 25 percent of all Android devices while Ice Cream Sandwich was on 29.3 percent of devices.
Jelly Bean is set to maintain its growth in the near future, considering the availability of the Samsung Galaxy S4 and HTC One in more markets. The update is already available on Nexus 7 and Nexus 10 slates, as well as the Nexus 4 and other Galaxy Nexus phones. Check out the detailed Android platform distribution here.