Apple's iPhone 5 has emerged as the world's top selling smartphone ahead of the Samsung Galaxy S III during the fourth quarter of 2012, says the latest report by market research and consulting firm Strategy Analytics.
According to the report, global shipments of the Apple iPhone 5 rose from 6 million in the third quarter of 2012, with a total of 27.4 million units in the final quarter. Samsung's current flagship smartphone, however, dipped from 18 million to 15.4 million units over the same period.
The surge in demand for the Apple iPhone 5 is quite significant. It's notable in the third quarter, the S III was taking on Apple's iPhone 4S. At the time, the iPhone 4S managed to ship 16.2 million units, not much behind the S III's 18 million units.
Moreover, the iPhone 4S sales surged in the fourth quarter of 2012 to 17.4 million units. Together, these two smartphones go past the S III with a global market share of more than 20 percent (20.6 percent).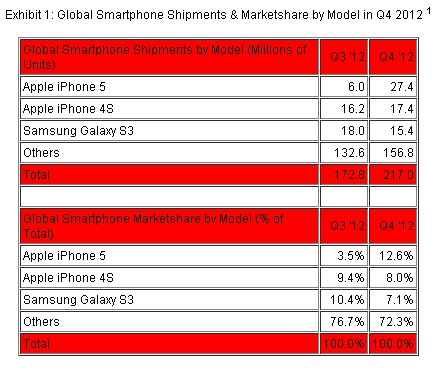 The figures shouldn't make much impact on Samsung, which now gears up to launch the successor to the S III next month. According to rumours, the Samsung S IV should be available in major markets by April.
The competition in the smartphone segment is set to heat up with BlackBerry launching the BB10-based Q10 and Z10, Nokia looking to expand Windows Phone 8-based Lumia devices, and HTC tapping both Android and Windows platforms. Apple is also rumoured to launch the next iPhone, dubbed as the iPhone 5S later this year.
"Apple's iPhone 5 and iPhone 4S together accounted for 1 in 5 of all smartphones shipped worldwide in Q4 2012. This was an impressive performance, given the iPhone portfolio's premium pricing. We estimate Samsung's Galaxy S3 was the world's third best-selling smartphone model and it shipped 15.4 million units globally, capturing 7 percent share in the fourth quarter of 2012," says
Samsung's Galaxy S III has been wildly popular with consumers and operators across North America, Europe and Asia. However, the global demand for the Galaxy S III appears to have peaked, and Samsung will surely be keen to introduce its rumored Galaxy S IV upgrade in the coming weeks to fight back against Apple's popular iPhone range."
Source: Strategy Analytics