Apple released the iOS 16.3 RC for developers to test out, just a week after the second Beta was released. If you're a registered developer, all you need to do is download the iOS 16.3 and iPad 16.3 profiles straight from the Apple Developer centre. After you install the same, you'll be able to use the OS and test it out.
iOS 16.3 brings support for security keys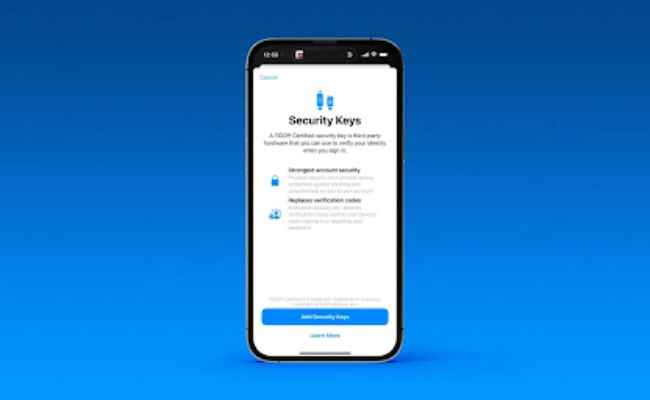 One of the biggest changes to note is that iOS 16.3 brings support for physical Security Keys that you can use in order to enhance the security of Apple IDs. You can link any FIDO Certified physical security key for authentication when you are accessing an Apple ID or even logging into a new device.
This will help replace the digital verification codes that an Apple device receives when you're using an Apple ID. According to the tech giant, this also brings you better protection against unauthorised account access as well as phishing. You need to use two physical security keys if you're planning to use this feature as one of the keys needs to function as a backup in case you lose the first one. If you lose both keys, you won't be able to access your Apple ID and even Apple won't be able to help you.

Apple iOS 16.3 new features
Apple has released a list of new features that accompany iOS 16.3. The following is the official list:
- New Unity wallpaper honours Black history and culture in celebration of Black History Month
- Security Keys for Apple ID allow users to strengthen the security of their account by requiring a physical security key as part of the two-factor authentication sign-in process on new devices
- Support for HomePod (2nd generation)
- Emergency SOS calls now require holding the side button with the up or down volume button and then releasing it in order to prevent inadvertent emergency calls
- Fixes an issue in Freeform where some drawing strokes created with Apple Pencil or your finger may not appear on shared boards
- Addresses an issue where the wallpaper may appear black on the Lock Screen
- Fixes an issue where horizontal lines may temporarily appear while waking up iPhone 14 Pro Max
- Fixes an issue where the Home Lock Screen widget does not accurately display the Home app status
- Addresses an issue where Siri may not respond properly to music requests
- Resolves issues where Siri requests in CarPlay may not be understood correctly
For more technology news, product reviews, sci-tech features and updates, keep reading Digit.in or head to our Google News page.