According to a report released by the Internet and Mobile Association of India (IAMAI) and Indian Market Research Bureau (IMRB), the country is predicted to have about 165 mobile Internet users by March 2015. The report titled 'Mobile Internet in India' reveals a sharp rise in the usage of Internet via mobile phones in the country.
The report, which covered about 21,000 households from 35 cities, further reveals the number of mobile Internet users in India had gone up to 87.1 million by December 2012 from 78.7 million in three months. Now more users are accessing the Internet via 2G and 3G dongles and even through the tablets, says the report.
The report predicts the number of mobile users will rise to 92.9 million by March 2013, go past 164.8 million in another two years. It's notable the number of mobile users in India stood at 4.1 million in 2009.
Average monthly bill of a user using the web via mobile device is around Rs. 450, notes the study. About 60 percent of the amount, Rs. 198, is spent on the Internet services, while remaining is spent on the voice-related services. The report describes this as a very healthy trends and says this means users are willing to shell out more than 40 percent of the bill on the Internet.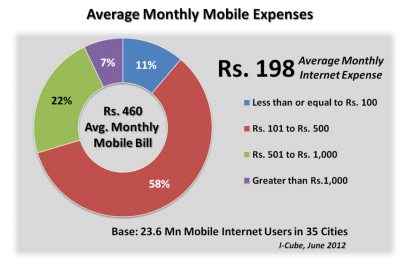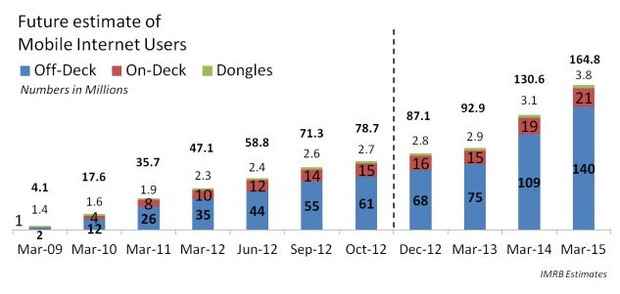 The study also found that the average monthly bill of a user accessing the Internet on mobile devices is INR 450 (US$8.47). Of this amount, 60 percent of those surveyed spent INR 198 (US$3.64) on Internet services while the rest were spent on voice-related services.
Not much to our surprise, e-mail, social networking and instant messaging services emerged as the most used services among the mobile Internet users. Ticketing and e-banking also made it to the list.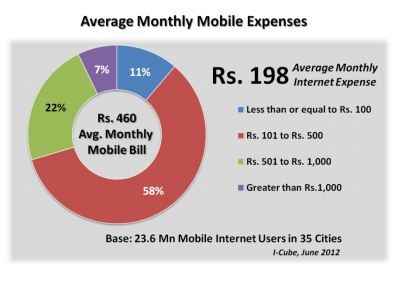 Read the full 'Mobile Internet in India' report here.
Source: Zdnet
Also read,
Internet users in rural India to reach 45 million by 2012: report