Images have surfaced on the Internet, which show that the Nexus 5 will be available in white
Images have surfaced online which show the Nexus 5 in white. We have seen several leaked images of the Nexus 5, but they have all shown the black version of the smartphone.
The Nexus 4, which was launched last year, came in black. A white version of the Nexus 4 was subsequently launched. If the leaked information is to be believed, then both, the white and the black version of the smartphone will be unveiled together.
Sticking to the rumours of the Nexus 5, the device will be available in two variants – 16GB and 32GB. There is no 8GB variant available. The Nexus 4 came in 8GB and 16GB storage capacities. It's nice to see the smartphone available in a 32GB variant.
If rumour mills are to be believed, then the smartphone will house a 2300mAh battery. This seems a tad disappointing as earlier rumours suggested that the device would come with a 3000mAh battery.
The Nexus 5 accidently appeared on the Google Play store for some time. The device wasn't clickable nor was it purchasable. The 16GB variant was priced at $349. Twitter too has been abuzz with tweets hinting that the smartphone will launch on October 28. There is no official information available about the same from Google.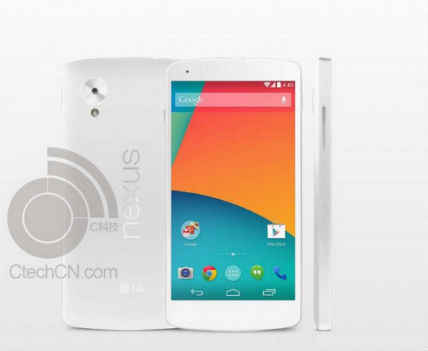 Source: GSM Arena