HTC has announced its new Android phablet, One Max, will be available in India next week, with a price tag of Rs. 56,500. The company will also be launching two new accessories - HTC Mini Plus (priced at Rs. 5,000) and Phone Finder (Rs. 2,500) - next week.
Pitted against the likes of Xperia Z Ultra, Samsung Galaxy Note III and LG Optimus G Pro, the HTC One Max features a 5.9-inch full HD IPS display, and is powered by the Snapdragon 600 chipset with a 1.7GHz quad-core Krait 300 CPU along with the Adreno 320 GPU and 2GB of RAM.
The smartphone runs Android 4.3 with HTC Sense 5.5 and HTC BlinkFeed. The One Max has the 4MP UltraPixel camera that can shoot video in 1080p at 30FPS and 720p video at 60FPS.
For connectivity, the One Max supports Wi-Fi, USB 2.0, Bluetooth 4.0 and NFC. The smartphone also also has a fingerprint scanner, which allows users to unlock the device and launch apps.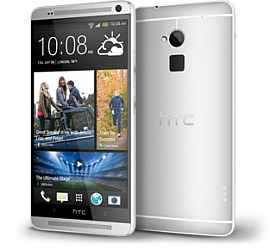 HTC to launch Windows Phone 8 handsets
HTC India's country head Faisal Siddiqui revealed the smartphone is mulling over launching new smartphones running Windows Phone 8 operating system. The company introduced two Windows Phone smartphones – 8S and 8X, which according to Siddiqui "had reached the end of their life".
"HTC's relationship with Microsoft will stand. We are evaluating various options and we will launch new products based on its platform," Siddiqui told Business Standard, without divulging a timeline for the launch.
More mid-range smartphones
HTC revealed it will be launching more smartphones in the price range of Rs. 11,000-Rs. 27,000. HTC will be launching two Desire handsets in that price range by end of this year.
"Besides, we will be launching HTC 1 Max priced at Rs 56,000 and two accessories — HTC 1 MiniPlus (Rs 5,000) and Phone Finder (Rs 2,500) — in the Indian market next week," Siddiqui said.
Source: Business Standard