Vostro 3501
Popular tech to stay connected anywhere. Save more on exciting Dell PCs.
Click here to know more
Advertisements

Just out of laboratory, 4G is almost ready for the consumers' shopping cart. HTC's much rumoured flagship model, just got a name yesterday - the Evo 4G - and it will probably be the world's first 4G mobile phone when it comes out. But is that the only feature it has to offer? Let's see what else we have found in the current prototype build...
The HTC Evo 4G is a CDMA phone, operating on CDMA 1X, EV-DO and WiMAX; where CDMA 1X is the Voice Carrier, and EV-DO and WiMAX technology will be used for Data Communication. This new and experimental multi-network technology will allow the phone to make seamless voice calls while simultaneously accessing the internet at high-speed.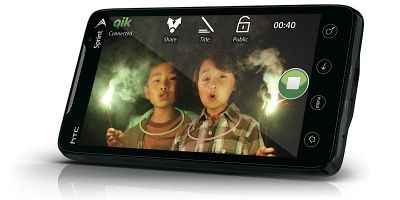 As you might have already expected, these kinds of uber-gadgets are not meant to be single-purpose devices; instead, these are the future, the ultimate convergence of effective computation devices in a single handheld form factor. So when we found it operates on Qualcomm's QSD8650 Snapdragon processor at 1GHz, we were disappointed that it was just the next iteration of what the Google Nexus One has inside, the QSD8250, and not the future! The volume of operative RAM i.e. 512MB is also as same as that of the Nexus One. It will need something more than that to 'woo' us, something more in keeping with its 4th Generation capabilities!

The HTC Evo 4G is one of the rare mobiles at this point in time to feature the Android 2.1 platform; and add that to HTC's capacitive multi-touch Sense UI, the Evo 4G makes for a superbly usable device. Even though the screen size is pretty huge for a mobile phone, that 4.3-inch TFT LCD will display a resolution of only 800x480 pixels. We also noticed the lack of a QWERTY keypad, making HTC Evo 4G a touch only device.
| | | |
| --- | --- | --- |
| | | |
| The Full Front View | Kickstand in Action | The Rear Camera |

To boost its users' multimedia appetite, this phone has an HDMI port to hook it to an HDTV, a must have feature for a smartphone nowadays. You can also use the Evo 4G with its kickstand for a fully handsfree high-res video experience. Though, the internal storage is only 1GB, the package comes with an 8GB microSD card - which still leaves you with not too much to spare. The main camera is a 8MP imaging device with 720p video recording ability and a powerful LED flash, while the secondary camera is a front facing 1.3MP device. The phone's WiFi connectivity is an overstatement in the present day and age, when it is not able to handle the 802.11n standard.

It has been reported that we can expect the market release of HTC Evo 4G anytime this summer, though no light has been put on the expected price. Considering the specs, and the 4G flagship build factor, it will surely make a large hole in your pocket; be warned!