Ahead of the official announcement on October 15, Best Buy Canada has already listed the Google Pixel 4 and Pixel 4 XL for pre-order. The product page has revealed key details about the two phones. It fully detailed the Pixel 4 lineup by highlighting the key specifications of the devices and comparing them with the Pixel 3a and Pixel 3a XL. The product page went live at the end of last week, but it has been removed from the site now.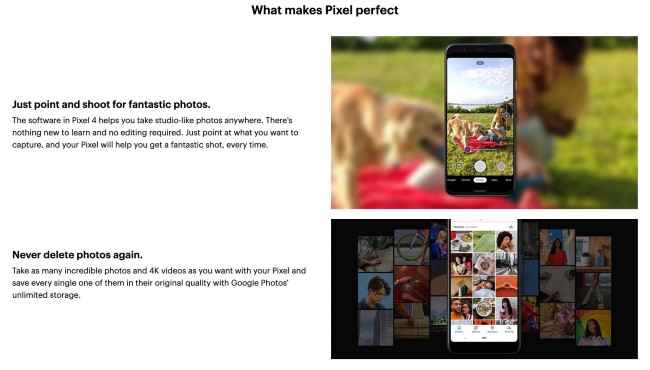 The listing mentioned four bullet points under "What makes Pixel perfect." It focused mainly on photography and software. The phone is touted to help users take studio-like photos anywhere. The next photography highlight that the listing showed was "original quality" storage on Google Photos.
Further, Soli features are expected to be named "Quick Gestures." The listing highlighted it by mentioning a "new way to control your phone." Google will be integrating the Soli Radar chip on the Pixel 4 series to track a user's hand gestures. It can be used to execute a task that's assigned to that particular gesture. However, it may not work in India.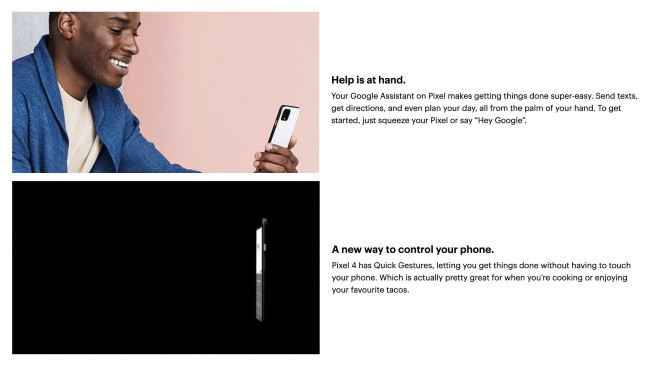 The last point focused on Google Assistant. The next-generation Assistant's functionality was referenced as "Send texts, get directions, and even plan your day, all from the palm of your hand."
The product page also showcased full specifications of the Pixel 4 and Pixel 4 XL. According to the listing, Google Pixel 4 lineup will sport a dual 12MP + 16MP rear camera setup. On the front, it may come with an 8MP selfie shooter.
Google Pixel 4 is expected to feature a 5.7" Full HD+ OLED display. On the other hand, Pixel 4 XL is touted to come equipped with a 6.3" Quad HD+ OLED display. Both the smartphones are expected to come with a 90Hz refresh rate, which Google is planning to call Smooth Display.
Both the Pixel 4 and Pixel 4 XL will be powered by the Qualcomm Snapdragon 855 chipset. They will come with 6GB RAM with 64GB/128GB storage options. The phones are likely to not have a fingerprint sensor since the listing mentioned "Face Unlock" under authentication.
The Google Pixel 4 will pack a 2800mAh battery, while the Pixel 4XL may come equipped with a 3700mAh battery. The phones are said to come in three colour options: Just Black, Clearly White and Oh So Orange. The latter may only be exclusive on pre-order.
Recently, the Canadian pricing of Google Pixel 4 and Pixel 4 XL were leaked as well.