Google demonstrated how good imaging capabilities can be achieved with a single camera setup when implemented with strong software algorithms. The Pixel 3 was no exception and the company has now updated the phone's front camera with a new feature that is aimed at automatically clicking 'perfect' pictures using computer vision. In its AI Blog, Google AI engineers Navid Shiee and Aseem Agarwala detail the new shutter-free mode being added to Photobooth. This new mode intensively employs AI and computer vision to automatically capture images of a person in the frame for five different expressions. It clicks photos for the following expressions - smiles, tongue-out, kissy/duck face, puffy-cheeks, and surprise. As one might have figured out, the new mode is available only for capturing selfies.
After entering the Photobooth mode from more options in Google Pixel 3's camera app, one needs to tap on the shutter icon. This activates the mode and a neural network kicks in for capturing images of not only one person, but also a couple, or a group when they are smiling, surprised, kissing or making any of the five aforementioned expressions. What's interesting is how the feature is implemented. An image will only be captured when certain criteria are met. For example, when the mode is activated, it will click a picture only when the camera is stable, and everyone in the frame has good expressions with their eyes open. As you can see, we tested the new mode, and it actually works well and detects when the best image could be clicked.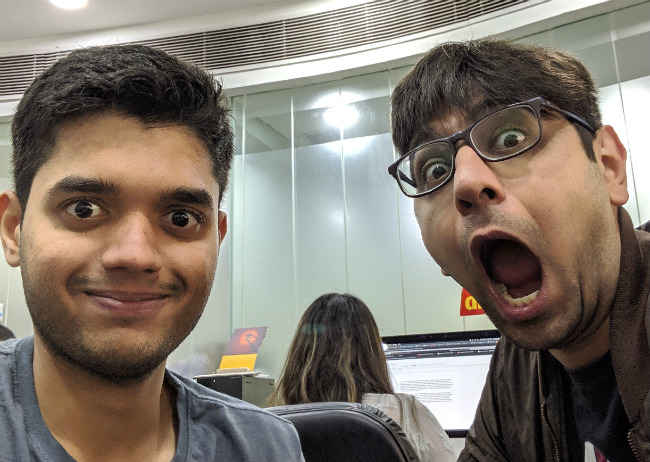 Google Pixel automatically captures images when people in the frame are smiling or wear a surprised expression
Phtotobooth uses two models to shoot good photos automatically, a model for facial expressions and another one to identify when people kiss. With Kiss detection added to Photobooth in the latest version of Pixel Camera, one can turn the mode on and kissing will automatically capture images. "The kiss detection model used by Photobooth is a variation of the Image Content Model (ICM) trained for Google Clips, fine-tuned specifically to focus on kissing. Both of these models use MobileNets in order to run efficiently on-device while continuously processing the images at high frame rate. The outputs of the models are used to evaluate the quality of each frame for the shutter control algorithm," states Google's blog post.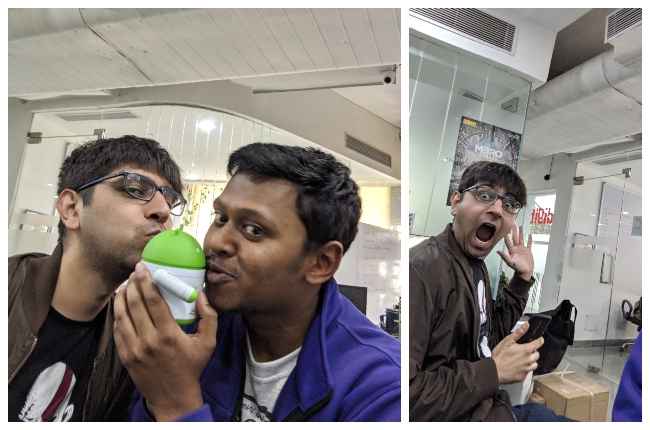 The Photobooth also captures images when people are kissing in the frame
As you can see, we also tested the kiss detection mode, but with an Android twist. Photobooth adds to the already available Top Shot and Portrait mode in the Pixel camera, but is optimised for the front-facing camera.