Qubo Smart Security WiFi Camer with Face Mask Detection
India's most versatile weatherproof outdoor camera that protects your outdoors 24x7 and provides crystal-clear video streaming day and night through the qubo mobile app.
Click here to know more
Advertisements
Google has officially introduced the first range of Android One smartphones in India. The new smartphones are up for grabs via e-commerce sites from today, and will hit retail stores across India from early October. Prices of the new Android One smartphones start at Rs. 6399.
The first three Android One smartphones are the Karbonn Sparkle V, Micromax Canvas A1, and Spice Dream UNO. The Karbonn Sparkle V (Magnum Blue, Mild Grey, Wild Red and Pearl White) is available online exclusively at Snapdeal; the Micromax Canvas A1 (Black, White) is available online exclusively at Amazon; and the Spice Dream UNO (Black, White) is available online exclusively at Flipkart.
The new Android One phones run the latest Android 4.4 KitKat and will receive the Android L release, which brings Google's new material design, improved battery life, security features, and smarter notifications. In terms of hardware, the phones feature front- and rear-facing cameras, 1G of memory, quad-core MediaTek processor, long battery life as well as features particularly important to Indians, including dual SIM slots, a FM radio tuner, and a microSD card slot for additional storage. Google apps such as Gmail, Google Maps, YouTube, Google Search, and Google Translate will come pre-loaded on the phones.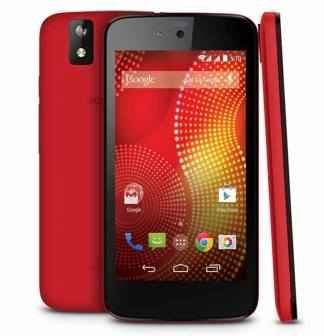 Karbonn Sparkle V Red listed on Snapdeal
Airtel is offering a promotion to reduce data costs for those who buy Android One phones. With an Airtel SIM card, Android One users will get free over-the-air (OTA) updates, and 200MB per month worth of app downloads from Google Play for the first six months.
Google also announced that in coming weeks much of YouTube will be available offline in India, meaning that people can store videos in the YouTube app when they are on WiFi and watch them later.
Sundar Pichai, Google Senior Vice President of Android, Chrome & Apps, said, "If we look at how people are getting online and accessing information today, increasingly it's through a smartphone. While 1.75 billion people around the world already have a smartphone, the vast majority of the world's population—over five billion more—do not. By working closely with phone and silicon chip makers to share reference designs and select components, we're making it easier for our partners to build phones that are not just great to use, but also affordable. With Android One, we not only want to help people get online, we want to make sure that when they get there, they can tap into the wealth of information and knowledge the web holds for everyone."
At today's Google press conference, Pichai also announced an expanded set of hardware partners for the Android One initiative, including Acer, Alcatel Onetouch, ASUS, HTC, Intex, Lava, Lenovo, Panasonic, and Xolo, as well as chipmaker Qualcomm. Google also unveiled that Android One phones will launch in Indonesia, the Philippines, and additional countries in South Asia by the end of the year.
Also read: Android One: Important developments around Google's big launch today
Buy Spice Android One Dream UNO Mi-498 from Flipkart at Rs 6,299/- only