Android Gingerbread continues to be the dominant force, but Ice Cream Sandwich has appeared on the map quicker than expected.
Google's latest operating system, Android 4.0 Ice Cream Sandwich, is now running on 0.6 per cent of Android devices, according to the stats released by Google on its developer website. Stats reveal about 0.3 per cent of devices are running on Android 4.0-4.0.2, while the remaining 0.3 per cent run on 4.0.3 version of the platform. While Ice Cream Sandwich makes its debut on the chart, the Gingerbread continues to be the most popular Android platform. About 55 per cent of devices currently run on Gingerbread. As expected, Android 2.2 Froyo has continued to loose its ground with its share dipping to 30.4 per cent.
Surprisingly, the ancient Eclair platform is still the third most popular Android platform, but its market share is shrinking rapidly. Also, the market share of the tablet-oriented Honeycomb platform has continued to expand with its three versions grabbing 3.3 per cent of shares. In early December, figures had suggested similar trend with Gingerbread having 50.6 per cent share, while Froyo ran on 35.3 percent of devices.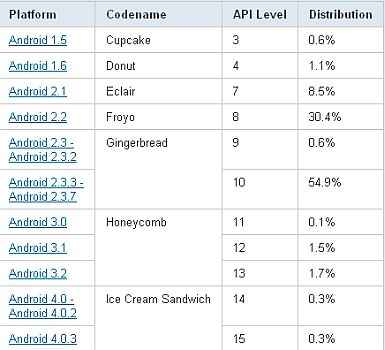 The advent of the Android 4.0 Ice Cream Sandwich on the map is certainly good news. The Galaxy Nexus, the first ICS device, is already doing good. The device is expected arrive in India soon. Huawei will soon follow with its Honor. It may be recalled that Sony Ericsson, LG and other manufacturers have already lined up ICS update for their respective devices for the year 2012. We are expecting the ICS will soon expand its market share by this year end.
Also read,
Source: developer.android.com