Samsung is again the top smartphone vendor in Q1 2015 with 81.1 million units sold, according to Gartner. Smartphone sales saw a growth 19.3 pc in the quarter driven by strong sales in emerging markets.
Research firm Gartner report reveals, Samsung sold 81.1 million smartphone units in the quarter, while rival Apple sold 60.1 million devices in the quarter. However Samsung's market share dropped to 24.2% from 30.4% in Q1 2014. Anshul Gupta, research director at Gartner stated, "Despite a weak first quarter globally, Samsung's performance returned to growth quarter-on-quarter, with an 11 percent increase from the fourth quarter of 2014. We expect Samsung's drop rate to be slower than that seen in recent quarters with sales of its new S6 smartphones starting in the second quarter of 2015, and its Galaxy Alpha receiving good response." Apple's market share rose from 17.9 pc to 15.3 pc in Q1 2014, and the company replaced Xiaomi to become the leading smartphone vendor in China in Q1. iPhone sales were up 72.5 percent during the first quarter of 2015, driven by iPhone 6 and iPhone 6 Plus sales. Lenovo, Huawei, and LG were among the top three vendors with 5.9 pc, 4.8 pc, and 4.0 pc market share, respectively. Anshul Gupta added, "Apple's extension into more Asian markets helped it close the gap with Samsung globally. In the same period last year, there was a difference of more than 40 million units with Samsung; this difference has been halved, within one year, to just over 20 million units."
Gartner says globally smartphone sales reached 336 million units, an increase of 19.3 per cent during the first quarter of 2015. The research firm says that the growth was driven by strong smartphone sales in emerging markets including Asia/Pacific, Eastern Europe, and the Middle East and North Africa. The report states that emerging markets saw an increase of almost 40 percent in sales during the Q1 of 2015. In terms of OS, Android was at the top, followed by iOS, Windows, and BlackBerry. "During this quarter, local brands and Chinese vendors came out as the key winners in emerging markets. These vendors recorded an average growth of 73 percent in smartphone sales and saw their combined share go up from 38 percent to 47 percent during the first quarter of 2015" said Mr. Gupta.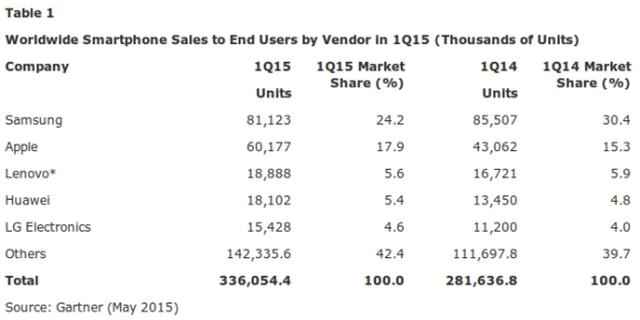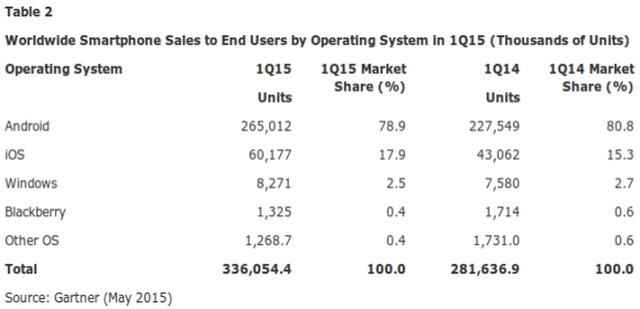 Source: Gartner