Fly Mobile presents the Fly LINKZ phone with dual-SIM, a touchscreen, and a price of Rs 5,509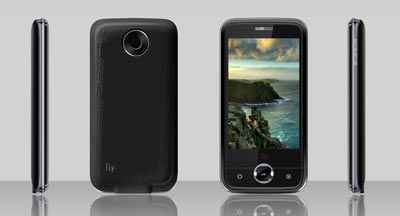 UK's Meridian Mobile, the makers of Fly, launched their new Fly phone in India, which is called LINKZ (V-180 DS). Keeping in theme with their previous releases, the MC160 and E106 - which broke the touchphone price barrier, Meridian Mobile's new Fly LINKZ is a phone that offers innumerable features at a very pocket-friendly price of Rs. 5509. Aimed at college and office-going youth, the phone is described by the company as a "stylish all-in-one messaging and social networking full touch dual-SIM phone". It will also offer several software bundles, such as features Nimbuzz, Snaptu, along with several Java games, and the Opera Mini mobile browser.
Nimbuzz is an award winning all-in-one messenger application that lets you manage and communicate with all your contacts and friends simultaneously, whether on Skype, Windows Live Messenger, GTalk, Yahoo, AIM, MySpace, ICQ, or others. The dynamic address book or "live contact list" lets you see what's going on in the virtual world in a single glance, seeing other's status and activity on a platform.
Snaptu is another popular social networking application that's ideal for social networking, letting you simultaneously connect with all your friends, contacts, and events from Twitter, Facebook, Picasa, Flickr and Google Calendar. Snaptu also lets you receive updates from your favourite news sources across the world, from Reuters to BBC to ESPN and hundreds of others, as well as weather updates.
The phone's specifications are: WQVGA screen (262K colours & 240x400 pixels resolution), 2 MP camera (with 1600 x 1200 pixel resolution and photo slideshow feature), accelerometer and motion sensor, video recording and playing, 3.5 mm universal audio jack, Bluetooth, FM radio, 1150 mAH battery (with 200 hours of standby time and 6.5 hours of talk time), expandable memory up to 8 GB, phonebook with 1000 contact capacity, and 2000 SMS storage capacity. Other features include: call blacklisting, multi-faith Indian calendar (keeps track festivals of different Indian religions), an audio player with 8 custom-equalizers and lyrics/album display, dedicated volume control keys, handwriting recognition, photo and video caller ID, and PC Sync.
At its price, the phone does offer a wealth of features and technology, and definitely has a chance of becoming popular with the budget conscious. However, without 3G or Wi-Fi being widespread, connectivity issues will be problem, not letting you truly enjoy the phone's startling value-for-money potential, and probably making you spend loads on GPRS bills.