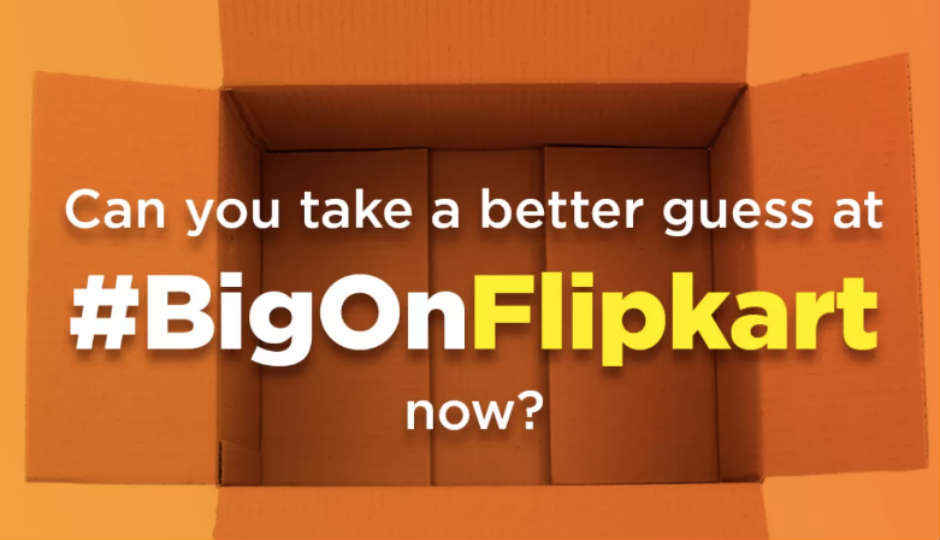 HIGHLIGHTS
Flipkart is expected to make two big announcements on April 17 at 12PM. The announcements will include an exclusive tie-up with a "tech giant", a big smartphone launch and the introduction of a new value added service.
Flipkart is teasing something 'Big' on its ecommerce platform since a couple of days and on Sunday, the ecommerce platform poster a clue as to what it is. BigOnFlipkart appears as a banner ad on the ecommerce website as well as the app and according to the latest teaser, there's a 'Big new phone launch' slated for April 17, 12pm. Flipkart's three-pronged teaser further hints at an exclusive brand partnership with a tech giant and an innovative new value added service "for your phone".
The BigOnFlipkart teaser is accompanied by a video message from the company CEO, Kalyan Krishnamurthy. In what Flipkart calls a 'clue' Krishnamurthy says, "Meaningful partnerships drive a successful business. Flipkart's philosophy of customer centricity and long term partnerships has transformed the way India buys mobile phones. We are proud to enter into an exclusive partnership with a tech giant to disrupt the mobile phone landscape in a big way. Get ready for 2 big announcements soon."
Flipkart mystery announcement can be correlated with Huawei India's teasers for the launch of the Huawei P20 and P20 Pro smartphones. The flagship Huawei smartphones could possibly land up on the ecommerce platform as a result of an exclusive partnership between the two companies. On the other hand, Flipkart rarely makes such a 'Big' deal about exclusive tie-ups with smartphone manufacturers, and it is possible the platform may unveil another self-branded device similar to the 'Billion Capture Plus' smartphone launched in collaboration with Indian OEM Smartron. [UPDATE] However a Flipkart source denied the launch of a 'Billion' branded smartphone. Flipkart has also sent out press invites for an event schedule in New Delhi tomorrow, where the company is expected to shed some more light on its big announcements.
As far as the innovative value added service is concerned, the corresponding graphic in the teaser suggests some sort of a mobile repair programme. Flipkart might bundle its smartphone offerings with its own after-sales and repair services
Those interested in knowing what Flipkart's big announcement is all about can head to the Flipkart Android or iOS app to answer one simple question and register their best guess.