Amazon Great Indian Festival sale
Up to 60% off on Electronics and other items.
Click here to know more
Advertisements
In a move that is clearly an opportunistic one, photo-sharing network, Flickr, is upgrading its users to an upgraded membership for a limited time, free of charge. The service, known as Flickr Pro, will be available for trial for three months. This is an opt-in service, with the users being sent the offer in a message titled "Merry Flickr". There is no compulsion to sign up for the upgrade.
With the Pro service, users do get a lot of additional benefits over the plain-Jane free offering. Users will be able to do unlimited photograph updates, with the image size a max of 50MB per image. The limitation of only being able to view the recent 200 images will be removed. The free trial ends on March 22, 2013, and the accounts will be automatically reverted to free service as before. In case a user is interested in keeping the upgrade, you will have to set up the payment details beforehand, at US$ 25 per year.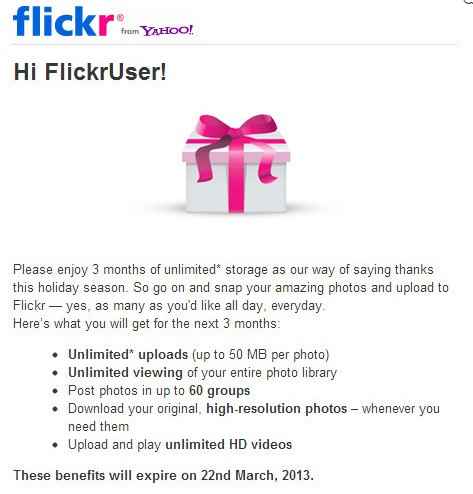 The timing of the offer clearly wants to capitalize on the recent user backlash caused by the updated Terms of Service put forward by Instagram. The new terms made it clear that Instagram has the full rights to sell any image uploaded by any user, without having to inform the user or offer compensation. The language of that clause has since been reverted to the original wording, and Instagram has clarified that it does not plan to do any sub-licensing of photos and will update the language further still, but the seeds of doubt have pretty much been sowed.
Flickr, by contrast, takes a different approach. They have what is called a "Creative Commons" license, which is optional, and is used for image sharing in non-commercial cases, and removes copyright issues. Flickr has also has tied up with Getty Images, through which users, if willing, can make their photos available for purchase by third parties. Getty Images takes care of the process, and the actual owners of selected images are eligible for compensation.
Also read,
Instagram for iOS update brings new filter, improved language support
Instagram changes its terms of service after user backlash
Instagram won't sell user photos