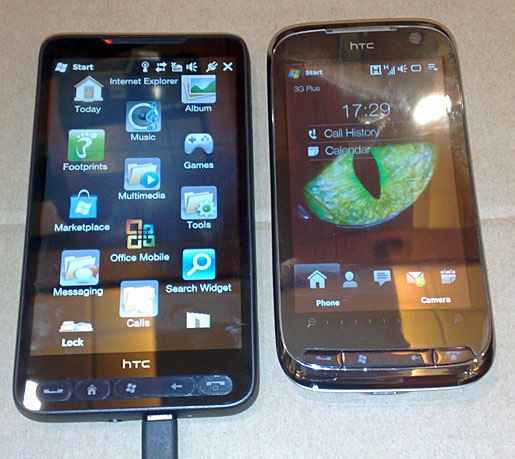 The HTC Leo (left) compared to the Touch Pro 2
Ladies and gentlemen, feast your eyes on the biggest and baddest cellphone you have ever seen in these leaked images that PDA.Pl uncovered! The HTC Leo is a giant among men, with specifications that outclass any other phone in any category.
To start off, there's the gargantuan 4.3-inch touchscreen with a resolution of 800x480 pixels; the 65K colours, though, is a downright put-off. Still, the screen is significantly larger than the 3.8-inch HTC Touch HD and the new LG BL40 with the long 4-inch screen. The only competitor for the Leo, in fact, is the Toshiba TG01.
The TG01 even matches the Leo when it comes to processor. Both the phones are powered by the Qualcomm Snapdragon QSD8250 1GHz processor, providing ample muscle for any task they might ask of it. If that wasn't enough, there's 320MB of RAM on board this mammoth.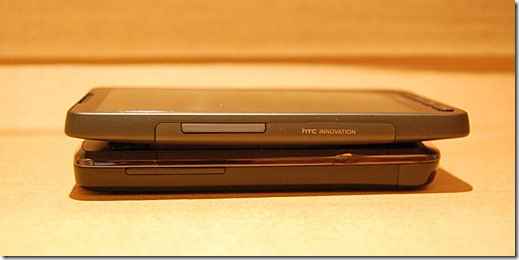 The HTC Leo (top) is a lot sleeker than the Touch HD
What's more, the handset is undeniably sleek. In the shots uncovered by PDA.Pl, the new Leo was compared to the HTC Touch HD. Of course, it was a lot longer and bigger due to the increased screen size, but it is so much thinner than the current king of the HD mobile world!
Other features of the phone that have been brought to light by the shots include 512MB of onboard Flash memory, dual LED flash for the 5-megapixel camera and that it runs Windows Mobile 6.5 with HTC's TouchFLO 3D (firmware 2.6).
The interesting aspect of the whole story, though, lay on the back of the phone. Scrawled right above the dummy Latin text were the words 'HTC Pro.Three'. Is that going to be the final product model?