Sony has rolled out a new firmware update for the Xperia Z and the Xperia ZL. Users of the smartphones in India can already download the new update. The smartphones will still run on Android 4.2 Jelly Bean but the update improves upon the performance of the smartphone. The version of the firmware on the smartphone is 10.3.1.A.0.244 and has been confirmed for regions including India, Sweden, Egypt, Saudi Arabia, and Poland. The update is 758.5 MB in size.
Xperia guide has said that the update gives the smartphones a smooth boot animation, efficient RAM management and makes the home launcher smooth. The update center has got a new UI too.
Other improvements include better 3G-signal strength and improved touch response. The AnTuTu Benchmark score however has dropped after 10.3.1.A.0.244 firmware update from 21456 to to 20483. The battery performance has dropped by 2% during tests and the phone heats up more during testing.
The sleep and wake is a bit faster now on the Xperia Z and ZL. Camera image quality in dark has improved. The car mode app too has changed.
The Xperia Z is priced around Rs. 30,000 in India and has a 5-inch 1080p display. The rear of the smartphone has a 13.1MP camera and the front has a 2.2MP camera for video calling. The smartphone runs on a quad-core 1.5Ghz CPU along with 2GB of RAM. It has 16GB storage expandable via a microSD card. A 2330mAh battery powers the entire package.
The Xperia ZL also has a 5-inch display with a 1080p resolution. The rear has a 13MP camera and the front has a 2MP video-calling camera. It also has a 1.5GHz quad-core processor along with 2GB of RAM supported by 16GB built-in storage expandable via a microSD card. A 2370mAh battery powers the device. The Xperia ZL is available to users for Rs. 31890.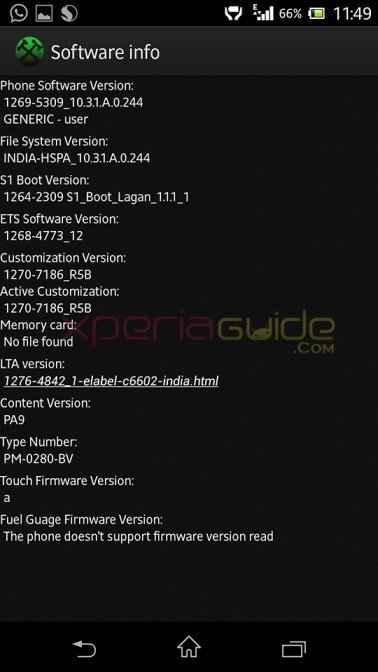 Source: Xperia Guide