Vostro 3501
Popular tech to stay connected anywhere. Save more on exciting Dell PCs.
Click here to know more
Advertisements
The new Lumia Denim update has started rolling out to devices running on Windows Phone 8. Denim is basically a variant of the Windows Phone 8.1 Update 1, with some special features for Lumia devices. The new update was already available on the Lumia 535, 730 and 830 and will now hit other devices.
Microsoft had announced the Lumia Denim update last year but had not specified any exact date as to when it would be released. Last month, the update had started hitting a few specific models, but now we hear that it is officially being seeded for all the supported models including the Lumia 520, Lumia 525, Lumia 620, Lumia 625, Lumia 630, Lumia 630 Dual SIM, Lumia 720, Lumia 820, Lumia 920, Lumia 925, Lumia 1020, Lumia 1320 and Lumia 1520.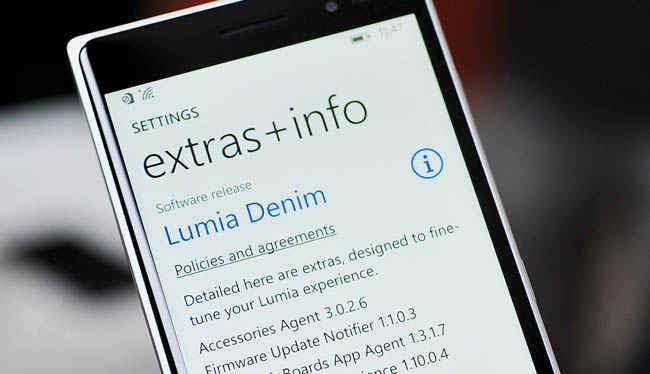 Here is a highlight of all the new features:
> Cortana: The virtual personal assistant's improvements include natural-language scenarios, snooze times for reminders, and the ability to chat with her in your car via car-kit integration. Originally available in the U.S., Cortana is now also available in China and the U.K. with a beta tag as well as in Australia, Canada, India, France, Italy, Germany and Spain with an alpha tag.
> "Hey Cortana" Voice Activation: Simply say "Hey Cortana" while the Lumia phone is in an idle state and Cortana will be activated. No need to press the microphone button. This feature is available for Lumia 930, Lumia Icon, and Lumia 1520.
> Live Folders: On your Start screen, organize your most-needed apps into folders (such as "News" and "Games") so you can access them with one tap.
> Glance Screen: The newly updated Glance Screen shows fitness and other health-related activity from MSN's Health and Fitness app.
> Improved IE: Connect and browse even faster with improved download speeds on mobile websites.
> Consumer VPN: This feature provides enhanced safety and security for your smartphone when connected to public, unprotected Wi-Fi networks.
In case you did not get the notification for the new update, wait for a week or so as updates take some time to be seeded to various servers.