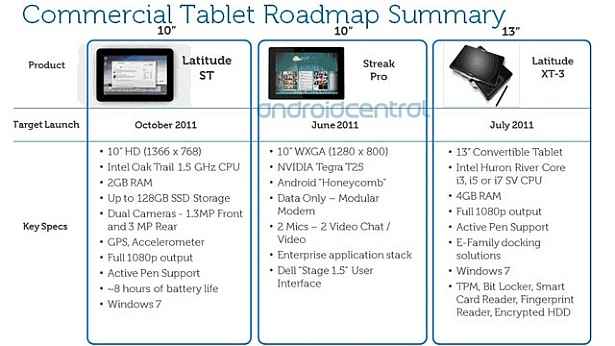 Looks like Dell's tablet roadmap has leaked with lots of details and specifications, including tentative release dates. Check it out above...
The first to arrive will be in June 2011, named the Dell Streak Pro, a 10-inch (1,280x800) tablet that will take on the Samsung Galaxy Tab 10.1, Apple iPad 2, Motorola Xoom, and other similarly sized tablets when it launches. It runs Android 3.0 Honeycomb with Dell Stage 1.5 UI skinned over it. The tablet is powered by the powerful dual-core Tegra 2 processor, clocked anywhere between 1GHz and 1.2GHz. Dell's Enterprise Application Stack is also going to be bundled onboard, featuring some great productivity applications.
[RELATED_ARTICLE]Next up is the Latitude XT-3, due to launch by July 2011, which is actually a laptop-tablet hybrid design with a 13-inch screen. It has specifications like a laptop, endowed with the latest Intel Huron River Core i3, i5, or i7 SV processor. Featuring Windows 7 as its operating system, the Latitude XT-3 looks like a capable bridge device with 4GB of RAM, stylus support, full 1080p HD output, and a variety of biometric and security features. It will be competing with the Lenovo UI Hybrid, as well as the Asus Transformer and Slider, and the dual-screen Acer Iconia laptop.
The Latitude ST is the last in line on the roadmap, and is due in October 2011. Also running Windows 7, the Latitude ST has a 10-inch screen with a resolution of 1366x768 pixels, making it 720p HD. It will run on a 1.5GHz Intel Oak Trail SoC processor, and, feature 2GB of RAM, and up to 128GB of solid state storage. Also including GPS connectivity, the tablet promises Apart from stylus support, the Latitude ST is designed to deliver up to 8 hours of battery life, and, full 1080p HD output.
Image courtesy: Android Central