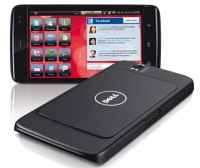 Baidu
announced its plans to develop a mobile operating system on Monday, and now, a day later,
Dell
has announced it would be partnering with the Chinese search engine giant to launch a smartphone in China based on the new OS.
The new OS, known as Baidu Yi, or just Yi, isn't too new however, it is a
forked
or much-modified version of Android, much like how Amazon has
supposedly modified
Android for its
Kindle Tablet
. Expect major interface changes, all based on the Android framework however. Ironic though, isn't it? The world's biggest search engine company, Google, develops Android, and later kicks itself out of China. China's biggest search engine, Baidu, takes Android, and modifies it to sell back to China - maybe an indication that only China-developed products have a chance in China? Hard to believe for a country with no real famous global brands of its own. Baidu evidently likes its chances though.
So, while the Baidu Yi-based smartphone will almost definitely be able to run Android apps in some manner or the other, Android Market access looks extremely unlikely, as do bundled native Google apps. Expect bundled apps to be developed by Baidu and its partners.
[RELATED_ARTICLE]
Dell's announcement of its partnership with Baidu contained no real details – just that it was collaborating to launch a smartphone for China – pricing, and availability has not yet been revealed.
Dell's interest in China is not a first for the company either, with the American online computer retail giant recently launching several products in China,
ahead of
the rest of the world, and using OEMs like
ZTE to produce
its mid-range Android smartphones. The potential of the Chinese market is one that a lot of major global players are eagerly eyeing, and the more forward thinking ones have already starting making some headway.
In terms of partnerships, this is not the first Baidu has made with a major western company recently, with the
Baidu-Bing
partnership made with Microsoft a
couple of months ago
.