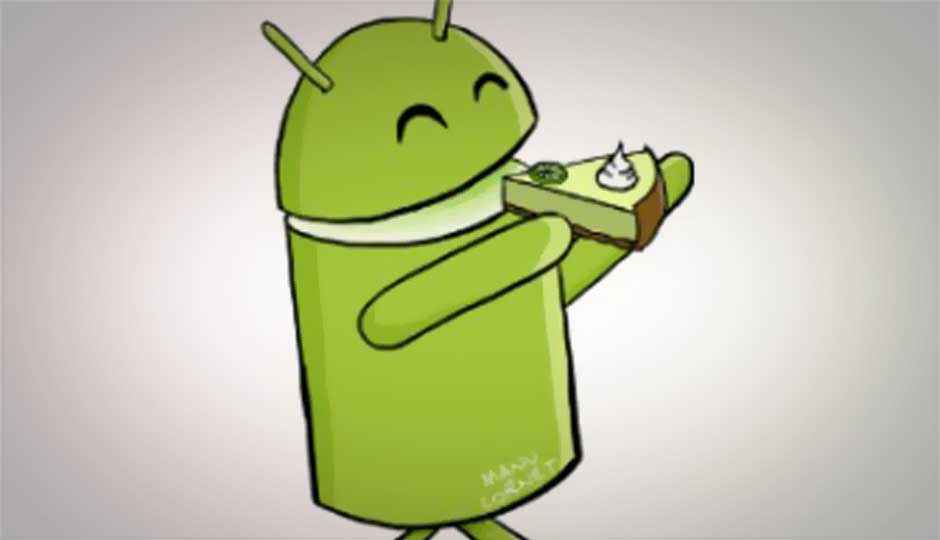 We know that Android 5.0 is in the works and we are speculating to see it in early 2013, but our speculations have just reached a new high with Android 5.0.
Manu Cornet, a Google employee has teased on his Google page an image that showcases the evolution of the Android OS, with the last image showing the little green Android eating a Key Lime Pie.
There are only two ways in which this rumour can be put to rest. First is if a Key Lime Pie makes an appearance on the Google lawn that is littered with all the sweet versions of Android. The second, and this one seems more plausible, is at Google I/O 2013 that is scheduled to take place in May.

In Android's history, the version that was last released that integrated the OS for tablets and smartphones was version 4.0 called Ice Cream Sandwich. ICS has been improved upon with Android 4.1 Jelly Bean. Recently, Android received another update. Most of the speculations suggested that that update would be KLP, but it was called Android 4.2 Jelly Bean. Also read Google releases new Android distribution stats, JB grows to 6.7 percent
When Android jumped from Gingerbread and Honeycomb to ICS, it was quite a rehash making the OS a lot more stable and easier to use on both, large screen as well as small screen devices.
We have already started seeing rumours that the forthcoming Samsung Galaxy S IV and the LG Optimus G2 will run on Android's next OS version.
Source: Google