Close on the heels of the NVIDIA Tegra 4 announcement, Qualcomm has also announced a refresh to its line-up of Snapdragon system-on-chips. Qualcomm announced that it is going to retire the S1, S2, S3 and S4 series of mobile chips and new set of chips will go by the new nomenclature - Snapdragon 200, Snapdragon 400, Snapdragon 600 and Snapdragon 800. The new series is expected to improve power and speed as compared to current generation of Qualcomm Snapdragon chips.
As you may have already deducted from the naming convention, the Snapdragon 600 and 800 will represent the high-performance chips whereas the Snapdragon 200 and 400 will be seen in low-end budget mobile devices.
Snapdragon 600 will be running four Krait 300 cores (clock speeds going up to 1.9 GHz). Krait is the codename for Qualcomm's custom ARM v7 microprocessor. The 600 will be around 40 percent more powerful than the S4 Pro at the same time consuming comparatively lesser battery. It will house the Adreno 320 GPU. We will start seeing this chip in mobile devices by Q2 2013.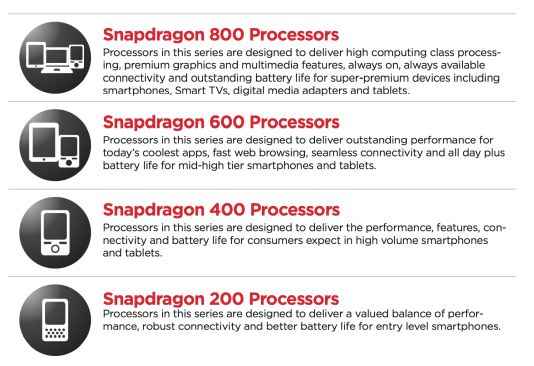 New Snapdragon lineup
The Snapdragon 800 will be the flagship SoC for 2013. It will be running four Krait 400 cores which are based on the 28nm manufacturing process. The Krait 400 can run to speeds up to 2.3 GHz in the quad configuration and its synchronous SMP architecture will provide dynamic power sensing and control for peak performance per core. The Snapdragon 800 will house an Adreno 330 GPU, support for display resolutions upto 2560x2048, a faster 4G LTE Cat 4 modem within the SoC. The presence of an LTE radio on the SoC is a definite plus over the Tegra 4 which does not include an LTE radio on the SoC, but it can be added optionally. Performance improvement of the Snapdragon 800 over the S4 Pro is claimed to be over 74 per cent which is quite impressive on paper. The Snapdragon 800 processors will be seen in commercial mobile devices in mid-2013.
"With the overwhelming success of our previous Qualcomm Snapdragon platforms, our mobile processors have emerged as the platform of choice for high-end mobile devices," said Steve Mollenkopf, president and chief operating officer of Qualcomm. "With more than 50 design wins already secured with the first products of the Qualcomm Snapdragon 600 and 800 processors, we are advancing our vision and setting the standard for excellence in mobile computing."
Source: Qualcomm 1 and 2