OnePlus TV 32Y1 - Smarter TV
Android TV with superior craftsmanship and elegant design - Buy Now
Click here to know more
Advertisements
It seems that Micromax's recently launched Canvas 4 smartphone is a really hot product amongst consumers. It appears that the device is selling at a premium in the market. The smartphone was launched at an official price tag of Rs. 17,999. Even though the smartphone seems to be out of stock with most retailers, the places where it is available, it seems to be selling for a premium.
On Infibeam and Saholic, the Canvas 4 is selling for Rs. 17,999, but on Flipkart, the smartphone is selling at Rs. 19,790 (black) and for Rs. 18,499 (white).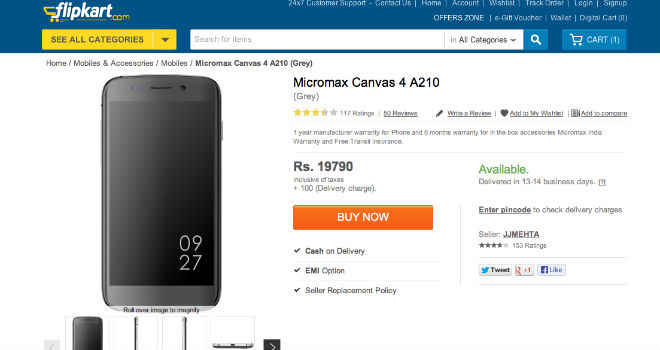 Many customers that pre-ordered the smartphone received an email on the launch date confirming that the balance payment or Rs. 13,000 was deducted from their credit card, with the initial Rs. 5,000 deducted during the time or pre-ordering. The e-mail sent to the customers had the data of 130 customers that pre-ordered the smartphone. According to Gizmodo India, the email contained information regarding customers "shipping and billing addresses, phone numbers, email addresses and even the pre-order site's login and password for every customer".
Rather than creating havoc and changing billing addresses with the information revealed, customers got in touch with each other and worked to resolve the problem.
We have reached out to Micromax for a comment regarding the hike in price and the leaked customer database. We are still waiting for a response from the company.
[UPDATE]: Micromax has responded to our query about the leaked customer database. Micromax Spokesperson said, "We have looked into these reports over the weekend, the incident is an unfortunate combination of system and human error on the last batch of the orders to be processed. However, we have blocked the access for any changes to be made into these accounts and have ensured that details could not be tampered by anyone to be misused."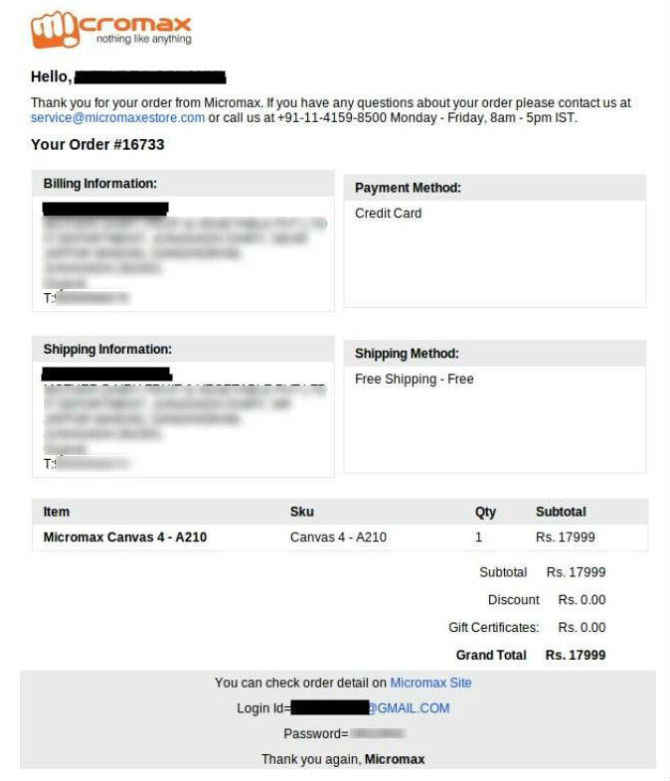 Source: Daily Bhaskar, Gizmodo India