Research In Motion offered a glimpse of the next operating system, BlackBerry 10, along with a developer alpha device, also dubbed as the Dev Alpha.
BlackBerry maker Research in Motion (RIM) has finally taken wraps off the much-anticipated BlackBerry 10 OS. On the first day of its three-day long BlackBerry World event, RIM also showcased a developer alpha device, also dubbed as the Dev Alpha, running on the QNX-based BlackBerry 10 platform.
RIM has categorically said that the handset unveiled at the event will not be the final device once the new OS goes official. However, reports suggest the BB 10-based device will not be much different. Engadget in its report has detailed features of the Dev Alpha handset. The device has a 4.2-inch screen with a resolution of 1,280 x 768. It houses 16GB internal storage and 1GB of RAM. The handset also has slot for microSIMs and a mini HDMI port on the left.
Cnet in its hands on report pointed out the device looks very similar to the PlayBook tablet as the Dev Alpha has same matte black material that covers the PlayBook's back.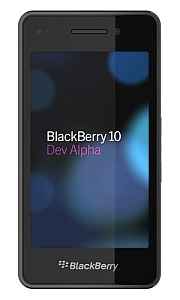 Though the company did not detail the new OS, but quite a few features were revealed. PCMag in its report says RIM's first BB 10 devices will be touch-screen only. The new OS supports swipe gestures, while buttons are larger. RIM has supposedly made improvements to the camera software as well.
"After snapping a photo, for instance, you can touch anywhere on the photo to go back in time. That means if someone's eyes are closed, but the rest of the photo looks great, you can highlight just that area, then step back a few moments in time to when they were open, while leaving the rest of the photo intact," said the report.
Here is the promo video of the new BB10 platform, showing the new keyboard interface:
Meanwhile, check out our other reports related to the BlackBerry World event – RIM unveils NFC music streaming device, BlackBerry Music Gateway and Photos of BlackBerry 10 development device leaked