Vostro 3501
Popular tech to stay connected anywhere. Save more on exciting Dell PCs.
Click here to know more
Advertisements
BlackBerry is reportedly going to launch its BlackBerry 10 OS-based smartphones, the Z10 and Q10, in India on February 25. The company has already sent teaser invites for a Mumbai event on that day, according to reports.
Earlier this month, reports had said BlackBerry would not be delaying the launch of its new flagship smartphones in its major markets including India and might roll out the device in the country by the end of the month. The pricing of the new BlackBerry smartphones, according to analysts, holds the key to BlackBerry's success. The full touch BlackBerry Z10 is expected to be priced around Rs. 39,000, which is quite high compared to other BlackBerry devices available in the country.
The BlackBerry 10 OS brings in various new features such as BlackBerry Hub, BlackBerry Flow, Time Shift, improved keyboard, new BBM, and BlackBerry Balance. Read Six intriguing features in BlackBerry 10
The BlackBerry Z10 has a 4.2-inch capacitive touch display with 1280 x 768 pixels resolution. It has 1.5 GHz dual-core processor and 2GB of RAM. Other key specifications of the device include 16GB built-in storage, expandable storage up to 64 GB, 8MP rear camera and 1800mAh battery. Read BlackBerry Z10: Head-to-head flagship comparison and BlackBerry Z10 Meta-Review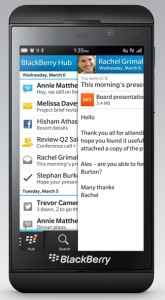 The BlackBerry Q10 has a 3.1-inch Super AMOLED display with 720 x 720 pixels resolution. It has the physical QWERTY keyboard and a touchscreen. It is powered by a 1.5 GHz dual-core processor and has 2GB of RAM. Other specs include 8MP camera, 16GB built-in storage, microSD slot and 1800 mAh battery. Read BlackBerry Q10: How it has evolved from the Bold Touch 9900