Not long after the global launch, BlackBerry launched the Z10 in India for a price of Rs. 43,490 (read our review). The price also became a Twitter hashtag, as the esteemed Twitterati went on a bashing spree, calling it expensive, and labelling it as a competition for some of the popular two wheelers available in the Indian market. Agree with the price or not, it is more a case of "it is here, deal with it".
Speaking of deals, you migh be asking, where can someone buy the Z10 from, and with the best possible offer? We attempt to give you an idea of where to head to, if the upgrade or switch to the Z10 is on your mind.
Infibeam: The folks at Infibeam are offering the Z10 for Rs. 42,999. This is the black colour version that is on here. They are promising delivery in 3-4 business days. Those who are buying using a credit card can also opt for the EMI option, but that is limited only to HDFC, ICICI, CITI, SBI, AXIS, HSBC, SCB and KOTAK credit card holders. Users can opt for the 3, 6 or 9 monthly installments. The total discount on the MRP is Rs. 491. Check out the Infibeam deal here.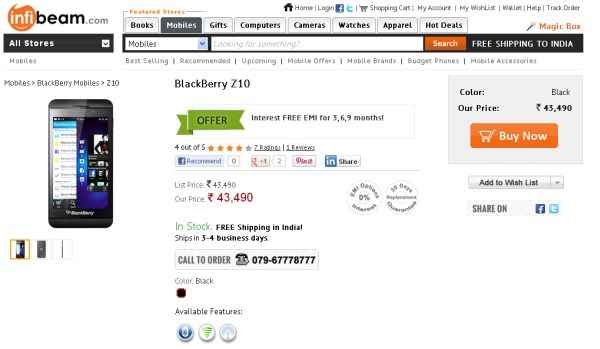 Saholic: You can also pick up the BlackBerry Z10 from Saholic. There is no straight discount on the price, but there is a power bank worth Rs. 899 being bundled with the device. Saholic is offering two colour options – black and white. Delivery is promised in 4 business days, and the usual EMI option is available here as well. Buyers in Delhi NCR can also buy online and select the option of picking up the phone from a Spice Hotspot store. Check out the Saholic deal here.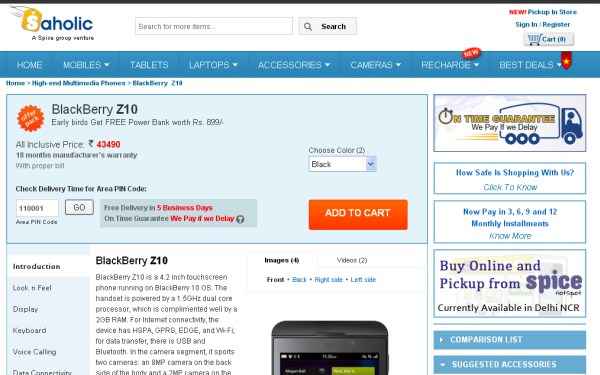 Flipkart: The BlackBerry Z10 is available on Flipkart, in the black colour version. There is no discount on the price, and delivery is promised within 8-9 business days. Flipkart is currently running the zero processing fee option on EMI's for 3, 6 and 9 months, and that offer is extended to the Z10 as well. Interestingly, Flipkart is the only website that explicitly mentions the Cash on Delivery option. Check out the deal here.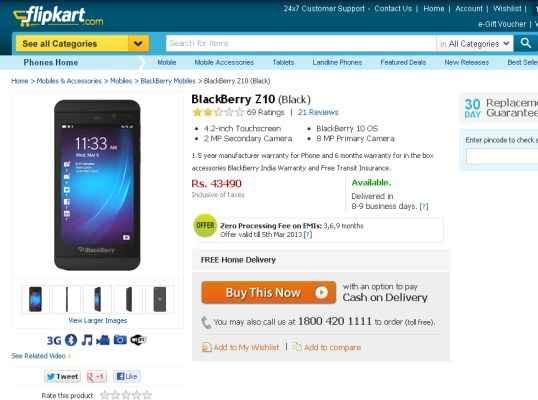 The question of "to buy or not to buy" has a fairly complicated answer. In a nutshell, it depends on what you want from your next smartphone, and whether the BB10 operating system and the apps available on the platform are enough for you. If you'd like to read our detailed review, hit up the link below:
Also read:
BlackBerry Z10 Review
BlackBerry Z10 versus Apple iPhone 5: Camera Comparison