Apple may be planning to launch three iPhones with am edge-to-edge design similar to the iPhone X. According to an investor note by KGI Securities analyst, Ming-Chi Kuo, Apple's 2018 iPhone lineup will include two iPhones with an OLED display and one with an LCD panel. The two OLED devices are tipped to be available in 6.5-inch and 5.8-inch variants, with the LCD version is expected to sport a 6.1-inch panel. All three may launch during the second half of 2018.
Apple started shipping iPhone X with 5.8-inch edge-to-edge OLED display only two weeks back. The supply is expected to match demand only in the first half of 2018. However, with the three edge-to-edge display iPhone tipped to launch next year, Kuo believes Apple will have its supply chain ready to handle the demand for the redesigned smartphones.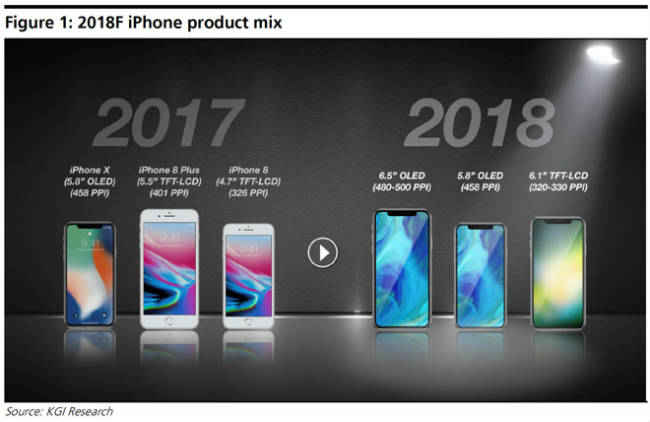 Source: AppleInsider
The 5.8-inch OLED iPhone is expected to be the direct successor to the iPhone X, while the 6.5-inch OLED iPhone is seen as the Plus model. The 6.1-inch LCD iPhone could be the cheapest offering from the Cupertino-based company. Kuo believes that the LCD model will be targeted toward the low-end and mid-range smartphone segments and may be priced between $650 and $750, making it cheaper than the OLED iPhones.
Apple's current iPhone lineup includes the iPhone 8 and the iPhone 8 Plus, both of which sport with LCD displays. The redesigned iPhone X however, is equipped with an OLED display. Last week, Kuo noted that Apple will refresh the design with changes to the stainless steel casing in order to improve data transmission quality.
Kuo had earlier predicted that all 2018 iPhone models will ditch Touch ID in favour of Face ID depending upon consumer response to the new facial recognition technology. With the launch of three new iPhones featuring edge-to-edge display design and improved supply chain, Kuo believes Apple will see a "super-cycle" of sales when the devices are announced next year.