Apple has overtaken Samsung as the number one smartphone maker in the fourth quarter of 2016. According to Strategy Analytics, this is the first time Apple has surpassed Samsung in the last five years. In Q4 2016, Apple sold 78.3 million iPhones as opposed to 77.5 million smartphones sold by Samsung.
The latest research from Strategy Analytics shows the global smartphone shipments grew 3 percent annually with nearly 1.5 billion devices sold in 2016. Samsung sold 309.4 million handsets while Apple sold 215.4 million iPhones last year. Huawei was the third largest smartphone maker in 2016 with shipments reaching 138.8 million units.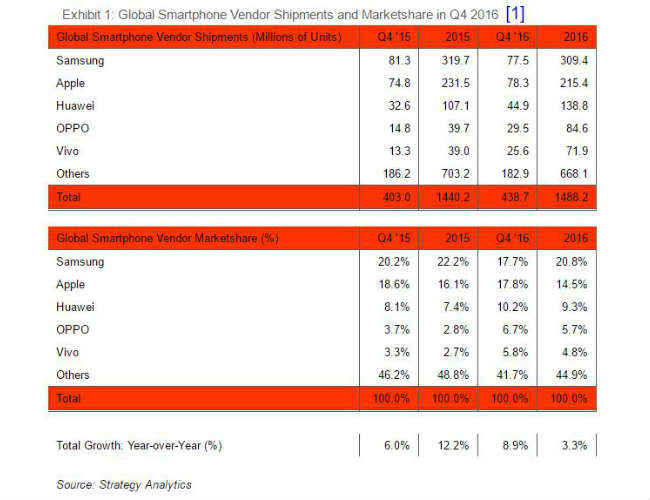 However, the largest growth in terms of shipments was recorded by Chinese smartphone makers Oppo and Vivo. Oppo's smartphone shipments almost doubled in 2016 with the company moving 84.6 million units versus 39.7 million units in 2015. Vivo was not far behind with shipments of 71.9 million units in 2016.
"This was the iPhone's best performance for over a year, as Apple capitalized on Samsung's recent missteps. Samsung will be banking on the rumored Galaxy S8 model in a few weeks' time to reignite growth and return to the top spot in quarterly smartphone shipments," the report said.
Earlier in the day, Apple announced its Q1 earnings where the company recorded profit of $17.8 billion. Apple managed to sell 78.3 million iPhones and the average selling price reached a record $695. However, Apple's guidance for next quarter hints at demand falling for its flagship smartphone.