Apple iPhone 8 Plus has outsold the smaller iPhone 8 in the third quarter of 2017, numbers from Canalys reveal. This is the first time a Plus model has outsold its smaller counterpart since the introduction of the iPhone 6 Plus in 2014.
The analyst report from Canalys says that the iPhone 7 was the best selling smartphone globally in the third quarter of 2017 with shipments reaching 13 million units, while iPhone 6s came in a distant second with shipments reaching 7.9 million units. Samsung's Galaxy J2 Prime was the third best-selling smartphone with shipments of 7.8 million units, while Oppo took fourth and fifth place with its A57 and R11 smartphones. Oppo shipped 7.8 million and 7.2 million units of A57 and R11 respectively.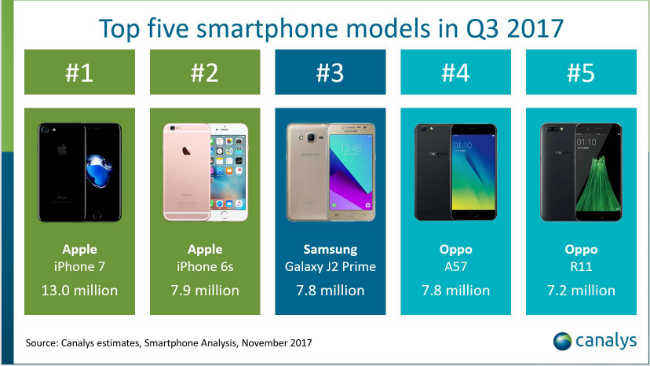 Canalys says worldwide smartphone shipments reached 375.9 million units in the third quarter, a growth of 5.9 percent over same period last year. Samsung remains the top smartphone brand globally with 82.8 million smartphone shipments in the third quarter. The company gained 8.2 percent market share in the last quarter due to strong demand for its Galaxy J series in markets like India and the Middle East. Canalys estimates Samsung to have shipped 4.4 million Galaxy Note 8 units in this quarter, delivering a positive result for the brand and dispelling the negative reputation earned with the Note 7 debacle.
Apple continues to maintain its second place in the top five vendors list with 46.7 million iPhones shipped in the third quarter. While Apple doesn't share shipment details of individual models, Canalys estimates the company to have shipped 11.8 million units of iPhone 8 and iPhone 8 Plus combined since it went on sale starting September 22. It shipped 6.3 million units of iPhone 8 Plus, higher than 5.4 million units of iPhone 8 shipped in the third quarter. "Shipments of older devices, such as the iPhone 6s and SE, saw an uptick in Q3," said Canalys Analyst Ben Stanton.
Huawei was the third largest smartphone brand with 17 percent growth in shipments to reach 39.1 million units in the third quarter. Chinese player Oppo and Xiaomi followed with a market share of 8 percent and 7.4 percent respectively. Xiaomi recorded the highest growth among the top five players with a growth of 86.9 percent in its smartphone shipments. Apple is expecting record profits in the fourth quarter, the first full quarter in terms of availability for iPhone 8 and iPhone 8 Plus while iPhone X will drive the average selling price higher next quarter. Huawei, meanwhile, would be hoping to drive its sales with the availability of Mate 10 series.