The moulds suggest that the iPhone 8 may be marginally taller than the iPhone 7s, but shorter than the iPhone 7s Plus
Apple is expected to announce three new iPhones at its fall event later this year. One of the models dubbed as 'iPhone 8' is rumoured to be a major redesign commemorating the ten year anniversary of the iPhone launch in 2007. The two other models will likely be an iterative update to the iPhone 7 and 7 Plus.
There have been multiple rumours around the upcoming phones in the past month. A recent leak showed even showed the renders based on factory CAD design. Now, a new leak surfaced on Weibo, which shows the mould of all the three new iPhones. While the mould doesn't reveal anything significant, it does show the size of the upcoming devices. It is not clear whether these moulds are being used to make iPhones or just cases for the forthcoming model.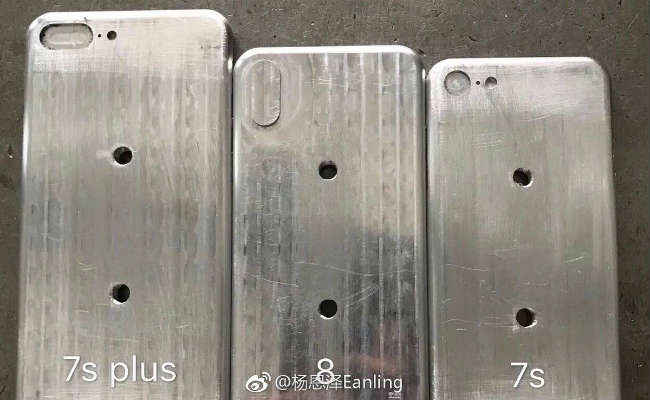 The mould for the iPhone 8 sugests that the device will be marginally taller than the iPhone 7, but significantly smaller than the iPhone 7 Plus. It also shows vertical cutout for the dual-rear camera setup and LED flash. The handset is likely to sport a larger 5.8-inch OLED display from Samsung and use a new A11 chipset. All the moulds also include two holes near the middle of the extrusions, indicating the design elements which are part of engineering.
Other rumoured features include 3D sensing front cameras, improved waterproofing, a new stacked mainboard design to house a larger battery and use of stainless steel chassis reinforced with glass. There are also rumours of wireless charging and Touch ID button placed under the glass. The handset is expected to come with a premium price tag of around $1,000. Most analysts believe iPhone 8 will be showcased at company's event in September but won't be available until the end of this year.
The iterative updates, likely to be called iPhone 7s and iPhone 7s Plus, are rumoured to swap aluminium unibody design in favour of a glass design. The handsets will get the latest A11 chipset but might retain existing design elements and lack features like wireless charging.