Apple's iPhone 5C has seen a major price cut in India. The smartphone that was launched for Rs. 41,900, is now selling for Rs. 37,950 on online marketplace Snapdeal.com. According to reports, the iPhone 5C will be soon available at the new price across the country. The 32GB version of iPhone 5C, however, is not available on discount.
Snapdeal shows the pink and green versions of the iPhone 5c priced at Rs. 39,320 and Rs. 39,330 respectively. Earlier, Amazon.in had listed the iPhone 5C for much cheaper – 36,899. However, the current listing on Amazon.in shows the blue and yellow 16GB iPhone models priced at Rs 39,500 and Rs 40,990 respectively. The pink and white versions are priced at Rs. 39,250.
Apple had drawn flak for the steep pricing of the iPhone 5C, which was touted as the "cheaper iPhone" and aimed at the emerging markets. The iPhone 5C features colourful plastic body, 4-inch Retina display, A6 processor, 8MP rear camera, 1.9 MP front camera, Wi-Fi and Bluetooth 4.0. To know more about the phone, read our detailed Apple iPhone 5C Review.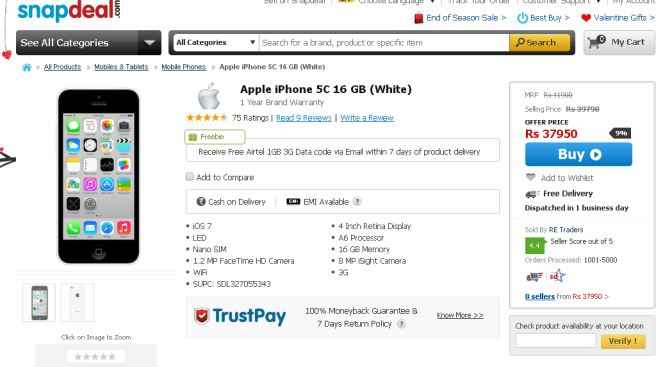 iPhone 5C listing on Snapdeal
The latest price cut comes weeks after Apple introduced buy back scheme which would bring down the cost of owning the iPhone 5C and iPhone 4S considerably. Through the exchange offer, the iPhone 5c was available to at least Rs. 28,900 from its original price of Rs. 41,900 and the iPhone 4S cost Rs. 18,500 instead of Rs. 31,500. Read: Apple iPhone buyback offer fails our test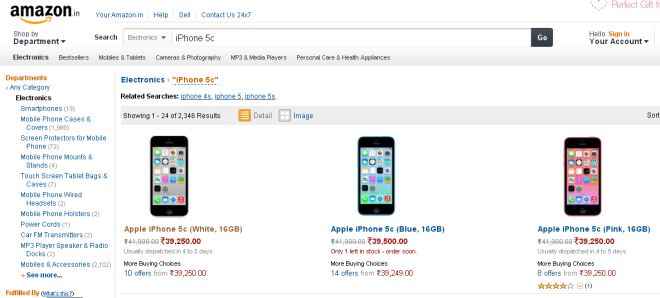 The new schemes and price cuts clearly indicate Apple has finally started to take the Indian market seriously. It's worth pointing out here Apple has already relaunched its popular iPhone 4 in the country. According to reports, Apple has resumed iPhone 4 production in order to tap the emerging markets including India.
Will you buy the iPhone 5C after the price cut? Let us know in the comments section below: