Amazon Great Indian Festival sale
Up to 60% off on Electronics and other items.
Click here to know more
Advertisements
It has been widely reported that Apple will launch three iPhones this year with aggressive pricing to boost its market share. The three iPhones include a successor of the iPhone X that will be a 5.8-inch device with an OLED display, a larger 6.5-inch iPhone with a "Plus" moniker that will also have an OLED display, and a third affordable 6.1-inch iPhone that will sport an LCD display, but will bear a similar design as the other two. To substantiate the rumours, two different sources have released the exact same image of the front display panels of the upcoming 2018 iPhones. The images have been spotted at Slashleaks and posted by a twitter user who goes by the name Ben Geskin.
Both the images show three front panels with a similar design. The size of the notch is the same and the images suggests that all the iPhones will have Apple's Face ID feature because they all have the same sensor cutouts. While the bezels of the 5.8-inch and 6.5-inch OLED iPhones are very thin, we can see the bezels of the front display of the LCD iPhone is thicker than that of the other two. Apple has roped-in LG to supply 2-4 million OLED displays for its upcoming iPhones. Recently it was reported that Japan-based Nichia will supply 0.3t LED chips exclusively for 2018 6.1-inch LCD iPhone to reduce the size of the bottom bezels to 2.0-2.5mm and enhance the LCD screens' competitiveness against OLED (bezel-less) screens panels.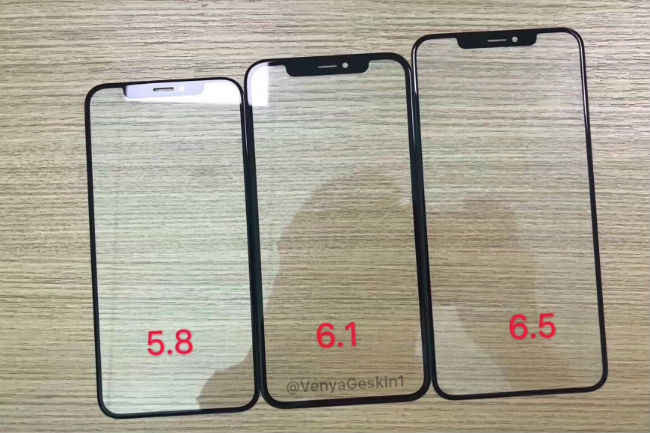 While the information about the hardware of the new iPhones is scarce, it is rumoured that the 6.5-inch "Plus" device will be offered in white and a new gold colour. The 6.1-inch LCD iPhone is expected to launch in grey, white, blue, red and orange colours. As far as the pricing is concerned, Apple is expected to launch the 6.5-inch OLED phone for $900-$1,000, the 5.8-inch OLED device for $800-$900, and the 6.1-inch LCD iPhone will be priced at $600-$700. Apple is also expected to launch a string of new hardware at its September event. You can read about the products here.