Vostro 3501
Popular tech to stay connected anywhere. Save more on exciting Dell PCs.
Click here to know more
Advertisements
Google has released its latest Android distribution figures, which show the v4.1 Jelly Bean OS is rapidly growing, while the v2.3 Gingerbread OS remains the top Android platform. According to the data, Jelly Bean is now running on 1.2 percent of Android devices, while its predecessor v4.0 Ice Cream Sandwich is active on about 21 percent of devices.
The latest data show the older versions of Android are slowly declining. Gingerbread, the top Android platform, is running on 57.2 percent devices. However, it is down from 60.6 percent last month. Froyo is on 14 percent, while Eclair is running on 3.7 percent. Android v3.0 Honeycomb, Google's tablet-specific platform, is still at about 2 percent. Check out the distribution in the chart below: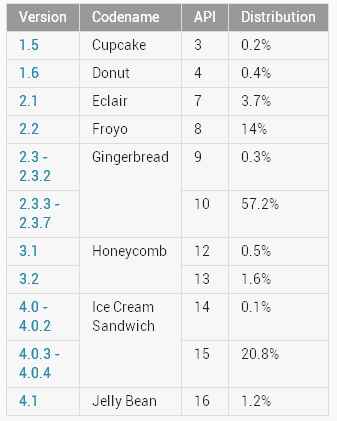 Data collected during a 14-day period ending on September 4, 2012
Google's last month figures had shown Jelly Bean on mere 0.8 percent devices, while ICS had almost 16 percent of share. You can read the previous Google distribution of platform versions here.
The latest figures show Jelly Bean has a long way to cover before becoming the main Android OS. However, good news is that a lot of manufacturers including Asus, HTC and Samsung have revealed plans for the Jelly Bean update. We can expect Jelly Bean to continue to grow at a faster pace in near future with more devices getting the software update, and new devices running the OS straight out of the box.
Source: Android Developer
Also read,