Make 2021 your best year with IBM Developer
Make 2021 the year where you truly shine, grow, build & Code. Get support and motivation from the IBM Developer community. #IBMDeveloper #CodePatterns
Click here to know more
Advertisements
Earlier this year, there were reports about MediaTek working on a new flagship, called the Helio X30. The SoC has now surfaced again as Analyst Pan Jiutang posted on Weibo that the upcoming SoC from MediaTek will be made using the new 10nm manufacturing process. Earlier, we had only heard rumours that MediaTek will change the manufacturing process for Helio X30, but this update adds more weight to the tittle-tattle. Currently, Samsung is the only company, which uses the 10nm manufacturing process.
The MediaTek Helio X30 is supposed to feature a deca-core processor cluster. Rumors suggest that there will be 4 Cortex-A72 cores @ 2.5GHz, 2 Cortex-A72 cores @ 2.0 GHz, 2 Cortex-A53 cores @ 1.5 GHz and 2 Cortex-A53 cores @ 1.0 GHz. Although, word is that the upcoming SoC may employ the yet to be released Cortex-A35 processors, which is supposed to heighten performance and be more battery efficient at the same time. The upcoming SoC is supposed to support 8GB of RAM and might feature a PowerVR GPU. Some previous reports suggest that the phone will be able to handle 26MP camera modules and will offer support for dual-main cameras.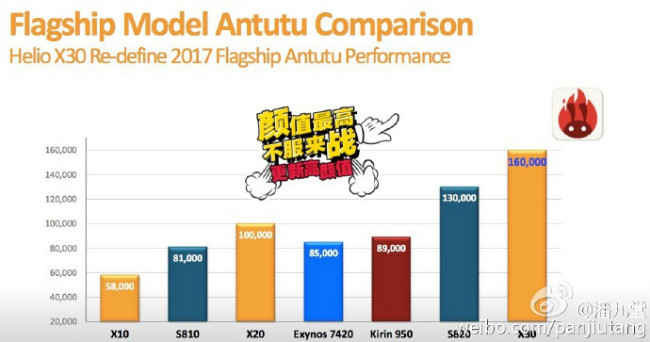 A leaked infographic suggests that the MediaTek Helio X30 will be able to reach 1,60,000 point on the AnTuTu benchmark. It is speculated to be announced near 2017 and will be the flagship SoC for the company next year. By that time, Samsung will be gearing up for its next generation SoC and more importantly, Qualcomm is likely to bring the Snapdragon 830 to the market.