Few alleged images of Samsung Galaxy S7 and S7 Edge were leaked earlier today which showcase an all black design. The images were leaked by @evleaks on twitter. Samsung is slated to launch its new Galaxy S7 lineup of phones on February 21. The launch event will take place a day before MWC 2016 kicks off. There are multiple rumors that suggest that the company will be launching three new phones which could be powered by two different SoC's
Some rumours circulating the internet suggest that Samsung is expected to launch three new phones, the Galaxy S7, S7 Edge and the S7 Edge + at the February 21 event where as other rumours suggest that the S7 Edge+ may not be a part of the MWC launch portfolio. Going by the rumours till now, the main difference between the three phones is the display size. The original Galaxy S7 is likely to feature a 5.1-inch display, the S7 Edge could feature a 5.5-inch display and the S7 Edge + may come with a 5.7-inch display. All three phones are expected to offer a 2K resolution on their respective displays. We have also heard that the phone maker may equip the upcoming phones with its own iteration of "3D touch". A recent rumor suggested that Samsung may introduce an all black design and chassis to give the smartphones a premium look. Going by the leaked images of the Galaxy S7, the phone does look better that the current Galaxy S6.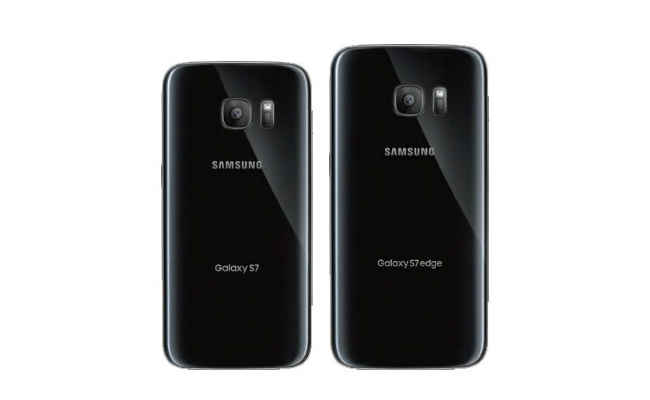 Specifications of the Samsung Galaxy S7 have been under speculation from over six months. According to the rumours thus far, the phone lineup is likely to come in two SoC options which will be aimed at different global markets. Rumours suggest that the S7 smartphone family will be available in both Exynos and Snapdragon powered versions. One might be powered by the Exynos 8890 and the other could be powered by the Snapdragon 820 SoC. The phones are expected to offer 4GB of RAM and a minimum of 32GB internal storage. It is expected that Samsung will launch 64GB and 128GB variants of the phones as well. Another rumour which could be true is that the phone maker might bring back microSD card support to its flagship range with the Galaxy S7 phones.
A few months ago, Samsung introduced a new 12MP BRITECELL sensor which the company claims, can take better low light images. Also, the new sensor is 17% thinner than the current gen camera sensors. Rumours suggest that Samsung will put this sensor in the upcoming Galaxy S7 lineup replacing the 16MP camera sensor it currently uses. Some reports suggest that the new sensor on the Galaxy S7 might have a f/1.7 aperture. Coming to other features of the S7 smartphones, they will house a fingerprint sensor and may feature USB Type-C connectivity. The phone are also expected to be water and dustproof.