Bharti Airtel has started taking pre-orders for the 16GB variant (black) of the Apple iPhone 5 for Rs. 45,500. Airtel's listing says the device will be available from November 2, while shipping is promised within 7-8 days. There's no word on availability and pricing of the other variants of the iPhone 5.
It's notable this time Apple hasn't partnered with telecom operators such as Airtel and Aircel for the distribution of its iPhone 5, instead the company has teamed up with Ingram Micro and Redington India for distributing the device to retailers. However, both Airtel and Aircel have listed the device on their websites and are expected to announce special plans. The iPhone 5 is expected to officially launch in India on November 2.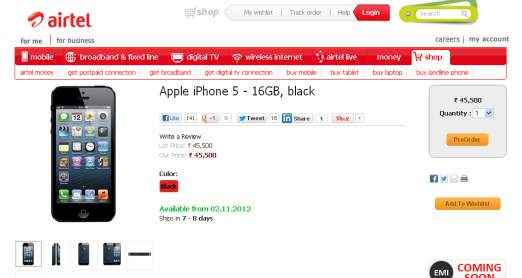 Airtel lists iPhone 5
Recently, the iPhone 5 was spotted on various online retailers. Saholic is retailing the device for just Rs. 45,500 (16GB version), and will ship with "12 month's manufacturer warranty", and a "proper bill." Another online retailer Infibeam is taking pre-orders for the iPhone 5 16GB with an advance booking amount of Rs. 5,000.
Apple India's page for the iPhone 5 still lists the device as 'coming soon'.
There's huge anticipation and excitement for the sixth generation iPhone. Not long ago, we saw the iPhone 5 selling on eBay India for whopping Rs. 74,000.
Preparations for the launch of the iPhone 5 have already begun with Apple supposedly slashing pricing of the older devices, iPhone 4 and iPhone 4S. Apple is also discontinuing the iPhone 3GS.
The iPhone 5 comes with the latest iOS 6, has a larger 4-inch Retina Display and is powered by Apple's latest A6 chip. The device packs in an improved 8MP camera with LED flash. The iPhone 5 will have the nanoSIM card, a smaller SIM card compared to the microSIM. Find out more about the iPhone 5 here.
Also read,