Aircel has introduced a new tariff plan that makes roaming across voice, SMS and data services free. Called the 'One Nation, One Rate' plan, subscribers will pay 1 paisa per second for both STD and local calls in their home circles, as well as on roaming. For local and STD SMSes, the operator will charge Re 1. Incoming will be free.
Aircel's One Nation, One Rate plan is available for Rs. 39 in Delhi with validity of 30 days; pricing will vary in other circles. Take a look at the table below for the full list of rates for the plan: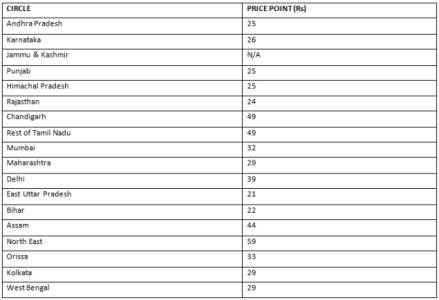 Table courtesy: NDTV
"This product will enable Aircel customers to enjoy one rate for voice, SMS and data services in their respective home circles and even while they are on roaming," Aircel Chief Marketing Officer, Anupam Vasudev is quoted as saying.
Aircel's free roaming plan comes at a time when most of the operators are looking to cut down freebies, raise call and data tariffs to improve margins and cover infrastructural costs. According to a recent Reuters report, the telecom operators are making efforts to increase revenues as they face "billions of dollars in airwave surcharges" as the government aims to restructure the spectrum allotments following cancellation of 122 telecom licences issued under a scam-tainted 2008 sale.
That being said, free roaming, one of the key elements of the new National Telecom Policy, is set to be implemented in the country from March 2013. The new plan, however, may deliver Aircel short-termed benefits. But it is unlikely that other telecom operators will follow suit as only two months are remaining for the free roaming implementation.
Also read,
Indian telcos gear up for BlackBerry 10 devices: Report
GSM operators lose over 9 million subscribers in November: COAI
Telcos cutting down freebies for prepaid customers to increase revenues