Want to modernise your banking loan application?
Build an application that analyses credit risk with #IBMCloud Pak for Data on #RedHat #OpenShift
Click here to know more
Advertisements
While rumours regarding a successor to Sony Xperia XZ2 are already making rounds on the the internet, a new Sony Xperia smartphone with 18:9 display ratio has been spotted in the making. According to a screenshot posted on sumahoinfo.com, this new phone with a model number H8616 runs on Android P 9.0 OS and has a resolution of 3840x1920. We can say it's a Sony Xperia device because the company has been naming its devices in the same manner - H81XX (Xperia XZ2 Premium), H82XX (Xperia XZ2) and H83XX (Xperia XZ Compact).
This is the second unreleased Sony Xperia phone that has been spotted in the last three days. Two days ago, a spec listing of a Sony Xperia phone bearing model number H8416 was found on GFXBench.The listing revealed that the smartphone, which may be called Xperia XZ3, has Android P 9.0 OS, 6GB RAM and Qualcomm Snapdradon 845 SoC. This implies the H8616 may be another variant of Xperia XZ3.
Talking about the display, the screenshot shows that the H8616 phone will have a display resolution of 3840x1920 which is a bit odd. The display size is also not mentioned. To get more clarity, we will need to wait for more information.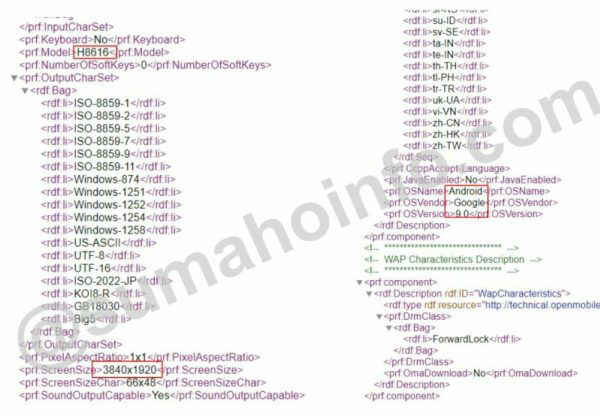 Meanwhile, a lot of information is available for the Sony phone with model number H8416. The specification sheet listed on GFXBench revealed that the smartphone will have a 5.9-inch display with 2880x1440 resolution. In the hardware department, model number H8416 has 128GB storage with 6GB RAM and is powered by an Octa-core Qualcomm processor clocked at 2.7GHz is assisted by an Adreno 630 GPU.
The listing shows a 13-megapixel front camera sensor and the phone appears to borrow the 19-megapixel rear sensor from the Xperia XZ2 Premium. Since it reportedly has a dual-camera setup, the 19-megapixel lens may be accompanied by a 12-megapixel snapper. The rear camera can shoot 4K videos. The device may be launched at IFA which is scheduled for the first week of September.
Cover and intext image: Sumahoinfo.com