A survey conducted by Nielsen reveals that 71 million or approximately 8 per cent of more than 900 million mobile users in India use multiple SIM cards. The survey says cities with population between 5-10 lakh have the highest density of multiple SIM users, which is about 21 percent. About 11 percent of multiple SIM users are based out of towns with 40-lakh population. Only 9 percent of users belong to rural areas, says the survey.
There's a catch though, multiple SIM users do not necessarily mean people with dual-SIM phones, but also people with multiple handsets as well.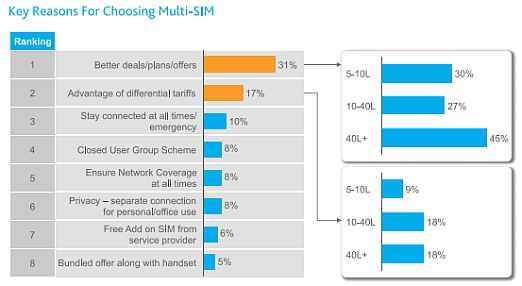 reasons why people prefer dual sim cards
The Nielsen survey further that youth are the highest multi-SIM users, as much as 45 percent between the age group of 18-25 years olds. Most of them are students, working professionals and newly employed. A multi-SIM user prefers different operators and prepaid connection. Also, the smaller operators are more popular among the multi-SIM users. Uninor, which has just 1 percent of market share, owns 6 percent of share when it comes to multi-SIM users. Similarly, Aircel goes up from 7 percent to 8 percent when it comes to multi-SIM user share.
The survey also points out that dual-SIM handsets are getting popularity in the country. Interestingly, 61 percent of multi-SIM users are owners of dual-SIM phones. Nokia leads the dual-SIM phone market, with a 30 percent market share. Samsung is at the second position with 16 percent market share. Indian manufacturer Micromax has 12 percent of market share.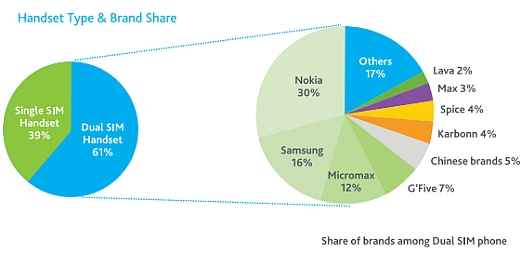 Handset Type and Brand Share
It's notable that dual-SIM segment has also drawn interests other major brands such as HTC, which recently forayed into the dual-SIM market with the Desire V.
Source: Neilsen
Also read,