The question on everyone's mind is what the hardware that will support the Windows Phone 7 Series OS will look like. We've all already seen glimpses of some hardware, especially the 'prototype' used by Microsoft at the MWC to show the world the WP7S, which is actually an unbranded Asus piece of hardware, built with the company's legendary build quality.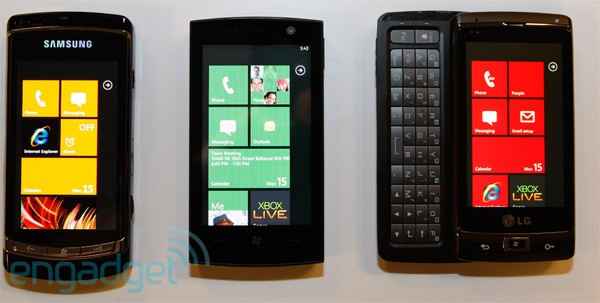 Left to right: Samsung, Asus, and LG
At MIX however, Engadget caught some peeks at the some of the other phone prototypes that will hold the already famous and very-much-looked-forward to Windows Phone 7 Series OS. We can't tell you their model names or their hardware specifications, just that one is Samsung's and the other is LG's slider. Minimum requirements are known though, and you can check them out here. Also check out the video below detailing showcasing the phones (though it mistakenly names the Asus the Acer). Also check out the photo gallery below.

Image courtesy: Engadget.com